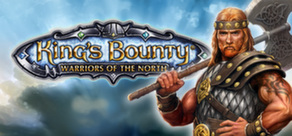 King's Bounty: Warriors of the North is the next chapter in the cult RPG/adventure saga.
Release Date: Oct 25, 2012
Watch HD video
Buy King's Bounty: Warriors of the North
Buy King's Bounty: Warriors of the North - Valhalla Edition
Includes:
Valhalla Armor Set: These unique in-game items are an armor set the hero can collect in the course of their journeys. Combined together these artifacts give additional a strong boost to the character's attributes.
Digital artwork and wallpapers. Digital bonuses: Ultra-high resolution artwork depicting an epic battle of Olaf and the Valkyries against undead hordes, and wallpapers available in all popular desktop resolutions.
Buy King's Bounty: Warriors of the North - The Complete Edition
Includes :
King's Bounty: Warriors of the North , King's Bounty: Valhalla Upgrade and King's Bounty: Warriors of the North - Ice and Fire DLC
Packages that include this game
Buy King's Bounty: Collector's Pack
Includes 5 items: King's Bounty: The Legend, King's Bounty: Armored Princess, King's Bounty: Crossworlds, King's Bounty: Warriors of the North, King's Bounty: Warriors of the North - Ice and Fire
Buy King's Bounty Warriors of the North: Valhalla Upgrade
Upgrade from Standard to Valhalla Edition
Downloadable Content For This Game
May 20
By the way, the Early Access of the upcoming King's Bounty: Dark Side is live!

Ice and Fire DLC changes and improvements
1. Zero damage error (and possible crash) caused by using Chain of Chance item and receiving a critical damage has been fixed.
2. Prices of many items were increased.
3. AI controlled Elders will no longer attempt to use Confusion ability when there are no valid targets and the error message won't appear anymore.
4. Adrenalin distributes between orc units correctly when using Justice spell. Crash that could happen because of this is fixed.
5. Book of Evil random spell won't inflict an additional damage anymore.
6. Goblin rage ability pushes enemy units correctly now.
7. Orc Hunters will correctly use their Net ability now.
8. Droids' Creature projector ability has been improved.
9. Runes for experience received by units will be granted correctly now.
10. The dialog with King Rinolyar in Brother forgiveness quest now appears correctly (new game required).
11. Mana Source spell cast by enemy Sun Fairies won't give player an additional mana bonus.
12. Necroenergy ability description corrected.
13. Ice crystals created by Snow Falcons will no longer appear in hexes occupied by energy bonuses.
14. Energy bonuses spell can no longer be cast on enemy units.
15. Snowflake Fairies can't create ice crystals in hexes occupied by energy bonuses anymore.
16. Archmage Rezo won't sell items before Elves arrival (new game required).
17. After completing the Undershore Brotherhood quest a new NPC appears not far away from the place where the quest is given. This NPC offers new items.
18. Squelch assassination quest becomes unavailable if player gives Bogis the quest item.
19. Inaccessibility of the Lost Ship on the Western Freedom Island fixed. Shop added.
20. Error with Suppress some Lizard items fixed.
21. Several items rebalanced. Decreased level of efficiency for some items affecting archers.
22. Avengers' Vengeance feature efficiency decreased. From now it inflicts 10% of the last damage inflicted by the target unit (previously it was 20%). The unit doesn't inflict additional damage in melee combat.
23. Incorrect message in the battle log about canceling of active unit effects after an attack of Skeleton archers using Black Arrow ability is fixed. Similar bug with other creatures is also fixed.
24. Chance of a critical hit from abilities is decreased. Basic probability of a critical hit (if morale of a unit is 0) equals 50% of its current critical hit ability. Max probability of a critical hit while using an ability is 80% from the current critical hit level.
25. Target selection for Black Arrow ability of Skeleton archers has been improved.
26. Quest for killing the undead Frogus will cancel correctly if you choose such an option in dialog.
27. Reward received for completion of Lost Companion and The Owl Tower quests has been increased (new game required).
28. Killing Gutar Dodger during the The Driller quest will no longer affect the state of Vitamins for the Miners quest.
29. Trolls and Jotuns will correctly receive a bonus from Drill item now.
30. The error with excess Owls received during The Owl Tower quest has been fixed (new game required).
31. Valhalla Messenger medal requirements has been lowered.
32. An error caused by runes received by creatures for experience has been fixed.
33. Goblin catapulters target selection improved.

Enjoy!
10 comments
Read more
April 3
1. Enemy units receive experience when a battle starts. Amount of experience depends on game difficulty level, location difficulty and enemy hero.
2. Blizzard spell damage reduced.
3. Blizzard and Invisibility spells cost more mana.
4. Enemy Orcs receive Adrenalin based on location and enemy hero (if an enemy army has a hero).
5. Attack parameter of Avengers, minimal damage from their base ranged attack and damage from Tranquilizer ability were reduced.
6. Dragon Veritorius now correctly appears in the den on Merlassar when player accepts Dragon Hunt quest from Hilda (requires starting a new game).
9. Ice Arrow no longer inflicts reduced damage when fired from a long distance.
10. Call of Nature spell now takes into account bonus leadership from equipped items.
11. Blind Rage medal level 4 parameters corrected.
12. Several errors in text files were fixed.
13. Dialog with Vampire hunter no longer appears if player used a quest item Antidote.
14. Ice Dragons Leadership bonus now applies to its minion summoning ability and they get experience for using it.
15. Enemy hero Gildenkrantz in Merlassar area now has correct bonuses and penalties.
16. Helheim song now grants a correct bonus against Necrolizards.
17. Bonuses and penalties from eliminated creatures are correclty canceled now.
18. Item Fire crossbow now correclty applies +1 fire damage effect to all archers.
19. Elders now correctly choose a target for their Confusion ability.
20. Tooltip fixed for Demonologists.
21. Dragon arrow ability no longer poisons its target.
22. A number of other errors fixed.


По-русски:
1. Снижен урон заклинания Буран.
2. Повышена стоимость в Мане для заклинаний Буран и Невидимость.
3. Исправлены некоторые ошибки в файлах локализаций.
4. Вражеские орки получают Адреналин, количество которого зависит от локации и наличия героя во вражеской армии.
5. Снижен параметр Атака существ Мстители, также снижен минимальный урон для базовой дистанционной атаки и урона от таланта Транквилизатор.
6. Исправлена ошибка, когда при взятии квеста у Хильды Воительницы Охота на Дракона, дракон Вериторий не появлялся в Логове Драконов на Мерлассаре. (требуется рестарт)
9. Исправлена ошибка, из-за которой талант Ледяная Стрела существ Разведчики наносил сниженный урон при атаках с дальних расстояний.
10. Исправлена ошибка с некорректным расчётом бонусного лидерства от предметов экипировки для заклинания Природный Зов.
11. Исправлена ошибка с параметрами медали Слепая Ярость 4 уровня.
12. Вражеские отряды получают опыт на старте сражения. Количество опыта зависит от сложности игры, сложности локации и наличия во вражеской армии командира.
13. Исправлена ошибка, из-за которой у игроков, использовавших квестовый предмет Противоядие, после сражений некорректно появлялся диалог с охотником на вампиров.
14. Исправлена ошибка, из-за которой у существ Ледяной Дракон не работал бонус Лидерства для таланта призыва прихвостней, а также, ошибка, из-за которой они не получали опыта за использование этого таланта.
15. Скорректированы бонусы, штрафы от вражеского героя Гильденкранц на Мерлассаре и его армия.
16. Виса Хельхейма даёт корректный бонус при атаке по Некроящерам.
17. Исправлена ошибка, когда бонусы или штрафы от некоторых отрядов существ, присутствовавших на арене ранее, но убитых, продолжали действовать.
18. Исправлен предмет Огненный самострел и его бонус +1 огненного урона всем лучникам.
19. Исправлена ошибка с неправильной выборкой отрядов для таланта Смятение существами Старейшины.
20. Исправлена подсказка в бою при выборе цели по эффективности таланта Нить Жизни существ Демонологи.
21. Исправлена ошибка, из-за которой существа Следопыты отравляли противника при использовании таланта Стрела дракона.
22. Исправлено множество других ошибок и недочётов.
5 comments
Read more
About the Game
King's Bounty: Warriors of the North is the next chapter in the cult RPG/adventure saga. The new tale takes place in the familiar world of Endoria featured in the previous games, but begins in the Viking lands, which the celebrated hero Bill Gilbert never visited during his famous quest in King's Bounty: The Legend.
The Mighty Olaf, son of the Konung of Northlings, has dedicated his life to battling the undead who have infested the northern lands of Endoria. He seeks to liberate the snowy wastes, dwarven dungeons, and the very heart of Endoria, the kingdom of Darion itself, from the dark grip of necromancy. On his quest towards immortal glory he will encounter cunning foes and new friends, hard battles and amazing adventures.
Key Features
The unique race of furious Vikings, as well as new neutral creatures;

New main hero - Olaf the Viking;

Valkyries! Five magnificent warrior maidens accompany Olaf, which he can call up during battle by expending his Rage points;

Improved skill tree and new unique talents;

New awards that grant special benefits;

Additional battle spells and a completely new magic school - Runic Magic;

Modified battle system based on the use of Runes;

Chant - a unique ability of the Skald class which can turn a likely defeat into an overwhelming victory;

The ability to forge new items;

Full Steam services integration, including Steam Cloud, Achievements and Leaderboard.
PC System Requirements
Minimum:


OS:Windows XP/Vista/7

Processor:2.6 GHz and better

Memory:1 GB RAM

Graphics:nVidia GeForce 6600 with 128 Mb VRAM or similar AMD card

DirectX®:9.0c

Hard Drive:8 GB HD space

Sound:DirectX 9.0c compliant
Recommended:


OS:Windows 7

Processor:3 GHz and better

Memory:2 GB RAM

Graphics:nVidia or AMD card with 512 Mb VRAM or more

DirectX®:9.0c

Hard Drive:8 GB HD space

Sound:DirectX 9.0c compliant
Mac System Requirements
OS:OSX 10.7 (Lion) and above

Processor:2 GHz Intel CPU

Memory:1 GB RAM

Graphics:nVidia or AMD card with 256 Mb VRAM or more

Hard Drive:8 GB HD space

Additional:15" or larger screen is recommended.
© 2012 1C Company. All rights reserved.
Helpful customer reviews