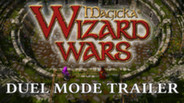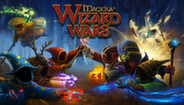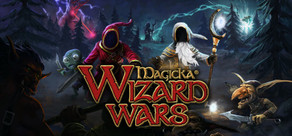 Magicka: Wizard Wars is a Spellcasting Action PvP game with the humor and the dynamic realtime spell system of Magicka. Players form teams of four and blaze their way across the battlefield, combining magical elements on the fly to create hundreds of spell combinations with wildly varying effects.
Release Date: May 27
Watch all 3 trailers
Early Access Game
Get instant access and start playing; get involved with this game as it develops.
Note: This Early Access game may or may not change significantly over the course of development. If you are not excited to play this game in its current state, then you may want to wait until the game progresses further in development. Learn more
What the developers have to say:
"Greetings Magickans!
We've just hit Alpha with the Wizard Wars, spells are now fully lethal though. During the coming days and weeks we will continue to add features and tweaks together with you. In the main menu there's always a "Feedback" button available which we respond to in weekly updates. If you decide to support us by getting the Founder Wizard or IMPressive Founder Packs we will also discuss changes in depth in the forum with you.

Lastly, any support is welcome, and in the end joining is during Early Access means just that, you get to play and develop the game with us from Alpha. The goal however, is to offer the most fun free to play arena game out there, you just have to let us know when you think we've reached that goal." Read more
Play Magicka: Wizard Wars
Buy Magicka: Wizard Wars - Apprentice Starter Pack
Buy Magicka: Wizard Wars - Wizard Starter Pack
Buy Magicka: Wizard Wars - Archmage Starter Pack
August 26


Wizard Warfare has a new map for you to explore, featuring teleportation pads and a few extra sneaky surprises for those who are particularly observant. Oh...and beavers.

The new map features all you could want in a battlefield! Teleportation pads (handy to get from point-to-point fast, 100% success rate, only 60% of wizards experience long term injury!), a tower, wooden wildlife! Who could ask for more?!



Grab three friends, or hop in the queue alone. However you like to play, Displacement Ridge is sure to add a new (4th?) dimension to your Wizard Warfare matches!
8 comments
Read more
August 19
Hi!

Today brings you our first "proper" patch since we left for vacation. The development team have had their batteries recharged and are ready to start bringing you awesome content again! The main changes this week were the addition of the new "Treasure chest" feature (unlock one each day for a chance at Gold Crowns, Crystals or extra-special exclusive robes) and some big changes in terms of information in the pre-game/lobby screen. You can now see in full detail what your opposition have equipped, even their Magicks!

Full patch notes:

Gameplay
- Speed modifier system rewritten, primarily to deal with problems concerning permanent slowdown/speed up.
- Gear now properly calculates speed bonuses by adding/subtracting their bonuses instead of multiplying, ie two separate modifiers of +4% and +10% provide a 14% boost instead of 1.04 x 1.10 = 14.4% boost.
- Movement speed is now presented in all stat screens as a percentage of the default base speed.
- Movement slowdown when charging projectiles is now removed upon release and not projectile impact. This indirectly dealt with one cause of permanent slowdown.
- "IMMUNE" GUI popup when resisting knockdowns for any reason.
- Partial earth armor now protects correctly against ice.

Spells
- Fix for sprays being blocked by storms.
- Always knockdown both players when their beams collide.
- Self-cast now buffers the input like forward cast.
- Healing is now applied after damage from combined spells such as AWW, to prevent taking damage from a net heal at full health.
- Spell-casting speed now doesn't affect channeling tick rate(would cause self heal to be slower when chilled).
- Magicks can now be selected and queued during spell-casting, this should make it easier to reliably cast Magicks quickly.
- Reduced Death damage on low charged ice projectiles. Reduced charge up time elemental affinity bonus for ice projectiles (i.e speccing into Cold affinity doesn't ramp-up the cast time quite so much).

Localisation
- Added more new strings to all languages, plus some re-translations overall.
- New Amulet of Nullification description.
- Updated Teddy Bear error message.
- Fix for chat commands info string in German referring to SHIFT as CTRL.

Bugfixes
- You can no-longer hit yourself with your own Conflagration.
- Halt key now works as expected when holding down LMB.
- Fixed issue with items not appearing in the store.
- Fixed rare condition which could put login server in closed_for_players state.
- Some rare case UI bug fixes.
- Fire Longsword+1 charge effect now despawns properly when player is killed and/or gibbed.
- Rusty Dagger now has its proper damage template, doing 3 attacks instead of 4.
- Fixed not being able to join training grounds.
- Fix for crash if client eula was accepted but LS was in wrong state.
- Crashfix when dying during extreme lag.
- Fixed broken resolution behavior.
- Don't try to pathfind on the navmesh when in air.
- Fixed potential crash when player is knocked down
- Beam crash fix.
- Projectile charge effect glitch fix.
- Server now destroys all broken connections, should deal with some persistent slugs.
- No longer allow several players to spawn simultaneously at the exact same spawn point, clipping into one another.

Sound
- Bearded Axe impact sound tweaks.
- Some new sounds for Steam spells.
- Fixed distortion issue with Play and Join sounds.
- Changed Gungnir ability sound so it doesn't loop after it's been charged up.
- Weapons can now trigger unique equipment sounds in the menu.
- Fix for the Sacred Beast Horn weapon ability charge sound.

GUI
- Bundle packs offer icons.
- Fixed GUI shader causing visual artifacts.
- Correct calculation of word wrapped text extents.
- Replaced a lot of old GUI with new GUI.
- Fully detailed lobby stats window when hovering over players. It now provides the exact same information as the gear screen.
- Disconnected/dead indicators on player portraits should now never appear at the same time.
- Chest introduction background texture, and Magicks info background texture without text.
- Chest description background picture added.
- Updated a UI effect texture.
- Topmenu glow effect texture updated.
- New icons for the store.
- Updated Lobby highlight texture.
- Chest topmenu button effect.
- Open button for Chest and Store icons update.
- Updated the Special Offer Icon base (May still need changes).
- Updated store icon textures.
- Added a placeholder "Special Offer" base texture.
- Store stat display fixes for nullify trinket.

Misc.
- Default render settings set to high.
- Polished various textures.
- Various beam explosion effect fixes.
- Added specific error code for client unable to connect to EAC servers (TeddyBear).
12 comments
Read more
Reviews
"Wizard Wars' strength is that it's chaotic duels are immediately fun…"
PC Gamer

"I don't think anything else has quite gripped me in the same way this year."
Rock Paper Shotgun

"THE GRIM REAPER'S HERE!!! OH GOD!"
Yogscast

Apprentice Starter Pack


The Apprentice Starter Pack includes:

In-game costume: Purple Grimnir Tier 1 Robe

In-game weapons: Founder's Staff, Excelsior Line Staff, Vendetta Dagger

Sacrificial Dagger

Daemonic Staff
Wizard Starter Pack



The Wizard Starter Pack:

In-game costumes: Exclusive Blue Valkyrie Tier 2 Robe

Nidhögg Staff

Valkyrie Spear

100,000 Crowns

Exclusive Purple Grimnir Tier 1 Robe, Staff and Weapon

Excelsior Line Staff & Vendetta Dagger
Archmage Starter Pack



The Archmage Starter Pack includes:

In-game costume: Exclusive Green Steam Engineer Tier 3 Robe

Blowtorch Staff

Wrench

Gift an Apprentice Starter Pack

200,000 Crowns

Exclusive Blue Valkyrie Tier 2 Robe, Staff and Weapon

Exclusive Purple Grimnir Tier 1 Robe, Staff and Weapon

Excelsior Line Staff & Vendetta Dagger
About the Game
Magicka: Wizard Wars is a Spellcasting Action PvP game with the humor and the dynamic realtime spell system of Magicka. Players form teams of four and blaze their way across the battlefield, combining magical elements on the fly to create hundreds of spell combinations with wildly varying effects. Magicka: Wizard Wars will eventually be FREE to play.
Each player can personalize their wizard with unique gear and Magicks, complete with tongue-in-cheek references to popular media and current events.  
With friendly fire, short rounds and unpredictable strategies, Wizard Wars gives both novice players and experienced MOBA veterans a unique tactical depth in every encounter.
The time is now to get up, gear up and go to war!
2 Game modes, 4-on-4 teamplay and the new 1-on-1 Duel game mode

Fight intense battles - Co-op spellcasting, wielding fire and dragons as your weapons.

Show your skills in fast-paced action, dynamically choose your spells on the fly to counter your opponents' attacks.

Friendly fire is in full effect, staying true to the Magicka tradition of "accidentally" killing your friends.

100 Robes, Staves, Skins, Weapons and your Humor of choice, 100s more to come – Be the Wizard you want to be!
System Requirements
Minimum:


OS: Windows Vista SP2 or later

Processor: 2.4 GHz Dual Core CPU

Memory: 2 GB RAM

Graphics: 512MB NVIDIA GeForce 9800 / ATI Radeon HD 2600 XT or greater OR on-board (integrated): Intel HD 3000/4000 or greater

DirectX: Version 10

Network: Broadband Internet connection

Hard Drive: 2 GB available space

Sound Card: DirectX Compatible Sound Card
Recommended:


OS: Windows Vista SP2 or later

Processor: 2.4 GHz Dual Core CPU

Memory: 4 GB RAM

Graphics: 512Mb Nvidia GeForce 440 / AMD Radeon 5670 or greater

DirectX: Version 10

Network: Broadband Internet connection

Hard Drive: 2 GB available space

Sound Card: DirectX Compatible Sound Card
Paradox Interactive, MAGICKA® Copyright© [2013] Paradox Interactive AB All rights reserved. www.paradoxplaza.com
Helpful customer reviews
Title:
Magicka: Wizard Wars
Genre:
Action
,
Early Access
,
Free to Play
,
Strategy
Developer:
Paradox North
Publisher:
Paradox Interactive
Release Date:
May 27
Languages:
| | Interface | Full audio | Subtitles |
| --- | --- | --- | --- |
| English | | | |
| French | | | |
| German | | | |
| Polish | | | |
| Portuguese-Brazil | | | |
| Russian | | | |
See all 6 supported languages