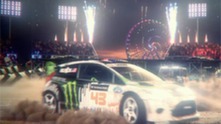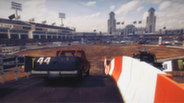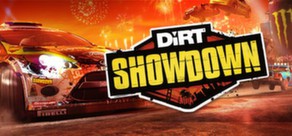 Race, crash and hoon your way through a world tour of motorised mayhem in DiRT Showdown!
Releasedatum: 23 mei 2012
Alle 4 trailers bekijken
Recensies
"Goed voor fantastische online zomerfeestjes"
8,5/10 – Gametrailers
"Briljante racedisciplines, toegankelijk rijden, prachtige presentatie en enorme verscheidenheid"
8/10 – Eurogamer
Info over het spel
Race, crash en flits door een wereld van gemotoriseerde gekte in DiRT Showdown! Uitzinnig publiek, sociale gameplay en toegankelijkheid komen allemaal samen in deze turboaangedreven rijdgekte. Trap het gaspedaal in en verdien de bewondering van een uitzinnig publiek tijdens superenergieke evenementen op legendarische locaties. Flits, race en smash je naar de overwinning, en doe het dan nog een keer.
Gebruik de boost om langs rivalen te blazen, ontketen je innerlijke hoonigan in enorme free-roaming stuntparken en zie hoe het uiterste wordt gehaald uit de meest geavanceerde schade-engine in vernietigende demolition derbies. DiRT Showdown is tevens Codemasters' meest verbonden game ooit - split-screen multiplayer, online races voor 8 spelers, snelle partygames, Showdown-uitdagingen en YouTube- integratie. Koop jouw ticket voor deze waanzinnige nieuwe wereld van toegankelijke sportraces van de makers van de bekroonde DiRT-serie.
Belangrijkste kenmerken:
Beleef een nieuwe wereld van grenzeloze races waarbij geen actie wordt geschuwd en alles uit de kast wordt getrokken
Trap de duivel op zijn staart op legendarische locaties – van Miami tot London, San Francisco tot Tokio en meer
Imponeer het publiek tijdens superenergieke evenementen met een festivalvibe
Demolition Derby-evenementen aangedreven door het meest geavanceerde schademodel zorgt voor het ultieme op het gebied van autochaos
Deel tikjes uit en gebruik nitro in high-octane races vol obstakels en schansen
Laat je stunts en autokunsten zien in free roaming freestyle arena's
Neem het om tegen je vrienden om de 'Showdown' finale te houden in verschillende disciplines
Duik in en rijd met gebruiksvriendelijke pick-up-and-play besturingen
Bewijs jezelf onder alle weersomstandigheden – regen, zon, mist en sneeuw – overdag of 's nachts voor duizenden juichende fans
Multiplayeroverload – online races voor 8 spelers, split-screen gaming en meer dan 10 verschillende evenementen
Stuur Showdown-uitdagingen naar je vrienden zodat je ze ook kunt spelen als je niet online bent
Gebruik de geïntegreerde 'Crashback'-camera om de meest spectaculaire crashes vast te leggen en upload de replays rechtstreeks naar YouTube
Systeemeisen
Minimum:

OS: Windows Vista or Windows 7
Processor: AMD Athlon 64 x2 or Intel Pentium D @3.2Ghz
Memory: 2 GB RAM
Graphics: • Graphics: AMD HD2000 Series, Nvidia 8000 Series, Intel HD Graphics 2500, AMD Fusion A4
Supported Graphics Cards: AMD HD2000 Series, HD3000 Series, HD4000 Series, HD5000 Series, HD6000 Series, HD7000 Series; Nvidia GeForce 8000 Series, 9000 Series, GTX200 Series, GTX400 Series, GTX500 Series
DirectX®: 11
Hard Drive: 15 GB HD space
Sound: DirectX Compatible Sound Card
Other Requirements: Broadband Internet connection
Recommended for DX11:

OS: Windows Vista or Windows 7 64 bit
Processor: AMD Bulldozer or Intel Core i7
Memory: 4 GB RAM
Graphics: AMD HD5870 or Nvidia GeForce 470GTX
DirectX®: 11
Hard Drive:15 GB HD space
Sound: DirectX Compatible Sound Card
Other Requirements:Broadband Internet connection
© 2011 The Codemasters Software Company Limited ("Codemasters"). All rights reserved. "Codemasters"®, "EGO"®, the Codemasters logo and "DiRT"® are registered trademarks owned by Codemasters. "Showdown"™ is a trademark of Codemasters. All other copyrights or trademarks are the property of their respective owners and are being used under license. Developed and published by Codemasters.

Nuttige klantrecensies