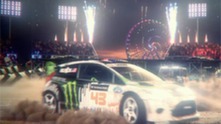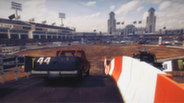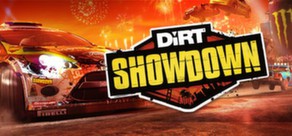 Race, crash and hoon your way through a world tour of motorised mayhem in DiRT Showdown!
Datum vydání: 23 května 2012
Sledovat všechny 4 upoutávky
Recenze
"Makes for some great summer parties online"
8.5/10 – Gametrailers
"Brilliant racing disciplines, accessible handling, gorgeous presentation and tremendous variety"
8/10 – Eurogamer
O hře
Závoďte, bourejte a prorazte si svou cestu skrz světový turnaj motoristického šílenství v DiRT Showdown! Čeká vás úžasná atmosféra davu, sociální prvky a snadná přístupnost všem herním nadšencům. Nasedněte do turbem poháněného monstra, sešlápněte plynový pedál a připravte se na nezapomenutelnou jízdu. Užijte si přitom obdiv zdivočelých davů na závodech připomínající jednu obrovskou show. Stačí ovládnout triky, nabrat rychlost a prorazit si cestu k vítězství v některém ze známých světových měst a poté to zopakovat i jinde.
Použijte nitro, abyste se prořítili kolem svých rivalů, uvolněte své bláznivé Já na obrovských freestylových akcích a sledujte co s vaším vozem dokáže nejpokročilejší systém poškození, který je využit na maximum při devastujících závodech demoliční derby. V DiRT Showdown se také sami tvůrci Codemasters překonali a připravili nám svůj dosud nejrozsáhlejší projekt v možnosti hraní online - můžete si zahrát ve split-screenu, či okusit přímou online akci s 8 hráči, nebo okamžitá párty, kterou můžete jezdit i offline. Showdown nabízí samozřejmě i plnou integraci YouTube, jak je již v sérii zvykem. Kupte si lístek do nového úžasného světa bláznivého závodění od tvůrců série DiRT, jež vyhrála několik ocenění.
Klíčové znaky:
Zažijte nový svět plný nárazů, odrážení od bariér a akčního závodění
Sešlápněte plyn na podlahu v Miami, Londýně, San Franciscu, Tokyu a na dalších známých místech
Nadchněte dav na festivalech nedovolených, energických závodů
Zúčastněte se demoličních derby v nejpokročilejším modelu poškození, jaké jste kdy mohli v závodní hře spatřit, poskytující ultimátní automobilový chaos
Vrážejte do ostatních, vyhýbejte se překážkám, přeskakujte soupeře pomocí ramp a ujíždějte posílení nitrem ve vysokooktanových závodech
Předveďte své dovednosti ve freestyle aréně, kde můžete zkoušet triky a bláznivé kousky dle libosti
Soupeřte se svými přáteli a dostaňte se skrz mnoho disciplín až do 'Showdown' finále
Žádné studování manuálu, ponořte se do hry s přístupným a jednoduchým ovládáním
Zažijte všechny možné podmínky na trati – déšť, slunce, mlha a sníh - v denním či nočním závodě pod světly reflektorů a to vše před tisícovkami fanoušků
Masivní multiplayer – až 8 hráčů v online závodech, split-screen režim a přes 10 různých soutěží
Pošlete Showdown Výzvu svým přátelům a můžete tak s nimi soupeřit i offline
Využijte integrovanou 'Crashback' kameru a zachyťte velkolepé havárie, které můžete nahrát rovnou na YouTube
Systémové požadavky
Minimum:

OS: Windows Vista or Windows 7
Processor: AMD Athlon 64 x2 or Intel Pentium D @3.2Ghz
Memory: 2 GB RAM
Graphics: • Graphics: AMD HD2000 Series, Nvidia 8000 Series, Intel HD Graphics 2500, AMD Fusion A4
Supported Graphics Cards: AMD HD2000 Series, HD3000 Series, HD4000 Series, HD5000 Series, HD6000 Series, HD7000 Series; Nvidia GeForce 8000 Series, 9000 Series, GTX200 Series, GTX400 Series, GTX500 Series
DirectX®: 11
Hard Drive: 15 GB HD space
Sound: DirectX Compatible Sound Card
Other Requirements: Broadband Internet connection
Recommended for DX11:

OS: Windows Vista or Windows 7 64 bit
Processor: AMD Bulldozer or Intel Core i7
Memory: 4 GB RAM
Graphics: AMD HD5870 or Nvidia GeForce 470GTX
DirectX®: 11
Hard Drive:15 GB HD space
Sound: DirectX Compatible Sound Card
Other Requirements:Broadband Internet connection
© 2011 The Codemasters Software Company Limited ("Codemasters"). All rights reserved. "Codemasters"®, "EGO"®, the Codemasters logo and "DiRT"® are registered trademarks owned by Codemasters. "Showdown"™ is a trademark of Codemasters. All other copyrights or trademarks are the property of their respective owners and are being used under license. Developed and published by Codemasters.

Užitečné recenze od zákazníků