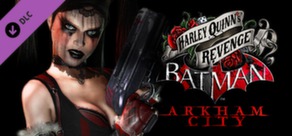 Çalışması için Batman: Arkham City oyununun Steam sürümüne sahip olmanız gerekmektedir.

Çıkış Tarihi: 31 Mayıs 2012
This product does not have support for your local language. Please review the supported language list below before purchasing
İndirilebilir İçerikler
Çalışması için Batman: Arkham City oyununun Steam sürümüne sahip olmanız gerekmektedir.
Oyun Açıklaması
As the dust settles in Gotham, Batman is lured back into Arkham City by its last remaining super-criminal; Harley Quinn. Now more dangerous than ever and leading a homicidal gang of her own, she is hell-bent on taking her revenge against the Dark Knight.
Batman: Arkham City 'Harley Quinn's Revenge' DLC
sends players back into the urban mega-prison to face down it's final challenge. Playing as both Batman and Robin, gamers will utilize each of the heroes' unique combat and detective skills to uncover Harley's vengeful plan and close the book on Arkham City forever.
Key Features:
Play as both Batman and Robin as the high-stakes story unfolds

Face off against all new Gang' enemy types

Traverse the new environment using Robin's unique navigational abilities

Collect 10 Achievements

Over 2 hours of unique content
Sistem Gereksinimleri
OS: Windows XP, Vista, 7

Processor: Intel Core 2 Duo 2.4 GHz or AMD Athlon X2 4800+

Memory: 2GB RAM

Hard Disk Space: 17 GB free hard drive space

Video Card: ATI 3850HD 512 MB or NVIDIA GeForce 8800 GT 512MB

DirectX®: 9.0c

BATMAN: ARKHAM CITY software © 2011 Warner Bros. Entertainment Inc. Developed by Rocksteady Studios Ltd.
All other trademarks and copyrights are the property of their respective owners. All rights reserved.
DC LOGO, BATMAN and all characters, their distinctive likenesses, and related elements are trademarks of DC Comics © 2011. All Rights Reserved.
Yararlı müşteri incelemeleri
Başlık:
Batman Arkham City: Harley Quinn's Revenge
Tür:
Aksiyon
,
Macera
Geliştirici:
Rocksteady Studios
Yayımcı:
Warner Bros. Interactive Entertainment
Çıkış Tarihi:
31 Mayıs 2012
Diller:
| | Arayüz | Seslendirme | Altyazı |
| --- | --- | --- | --- |
| İngilizce | | | |
| Fransızca | | | |
| Almanca | | | |
| İtalyanca | | | |
| Lehçe | | | |
| Brezilya Portekizcesi | | | |
| Rusça | | | |
| İspanyolca | | | |
Tümünü gör 8 desteklenen diller