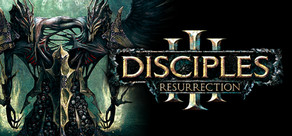 A new landmark in the history of Nevendaar, when a new race ascends to power – the ruthless & merciless Undead Hordes.
Releasedatum: 11 okt 2011
Disciples III: Resurrection kopen
Pakketten die deze game bevatten
Disciples III: Gold Edition kopen
Bevat 2 items: Disciples III - Renaissance Steam Special Edition, Disciples III - Resurrection
Info over het spel
Disciples III: Resurrection – Het grote Vervolg van de serie!
Een nieuw mijlpaal in de geschiedenis van Nevendaar, wanneer een nieuw volk aan de macht komt - de meedogenloze en genadeloze Undead Hordes. Het is een verhaal naar hebzucht en vergaande glorie. Helden uit het verleden, die hun leven hebben verloren, maar niet hun bewustzijn, verwachten wraak van Mortis, de godin van de dood.
Disciples 3 gaat over een nieuw volk - de Undead Hordes. Het was de meest verwachte wedloop tussen de gamers en de fans van de Disciples series, hun dromen zullen uitkomen in dit nieuwe deel van de Disciples series.
In het kort:
De meest verwachte strijd tegen de Undead Hordes!
Meer dan 70 uur aan gamelay. Dat is meer dan in het vorige deel: Disciples III: Renaissance!
Twee verhaallijnen, vier leiders van de Undead Hordes, twee eindbazen en meer dan 50 nieuwe troepen.
Herziende gameplay.
Beroemde vergaande Gothic atmosfeer. Unieke stijl en ontwerp. Heel erg realistisch.
Dramatische in intrigerende plot met een ontelbaar aantal missies.
Systeemeisen
OS: Windows XP SP 2 / Vista / Windows 7
Processor: 2 GHz Single Core
Memory: 1 GB
Graphics: DirectX 9.0c compatible, 128 MB (Shader Model 2.0 required)
DirectX®: 9.0c
Hard Drive: 8 GB
Sound: DirectX compatible
Nuttige klantrecensies