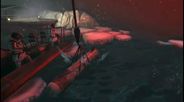 An atom bomb has landed in the hands of terrorists, the threat of an attack… and only you can prevent a catastrophe!
Data di rilascio: 26 ott 2011
Guarda video HD
Informazioni sul gioco
21 Gennaio 1968… Un bombardiere B-52G precipita nell'Oceano Artico ed una bomba atomica sparisce. Non è mai stata ritrovata... fino ad ora… La CIA ha appreso che un noto boss della mafia russa, Yebievdenko, ha l'ordigno e vuole venderlo ad uno spietato dittatore libico. Come membro di un'unità speciale, devi fermare questo affarre di armi letali. Il destino del mondo è nelle tue mani!
Un unico sparatutto d'azione in terza persona: lanciati in un inseguimento mozzafiato di pericolosi terroristi!

Varie missioni ed una serie di nuovi incarichi: completa tutte le sfide; missioni di combattimento ricche di azione, missioni furtive e frenetici inseguimenti su veicoli!

Un enorme arsenale di diverse armi e veicoli: usa tutti i mezzi disponibili per catturare i criminali!

Ore di divertimento di gioco - da solo o con gli amici: completa 9 livelli da giocatore singolo e mostra di cosa sei fatto in 3 differenti modalità multigiocatore online!

Grafica dettagliata: combatti in ambienti realistici dalla Groenlandia alla Libia!
Requisiti di sistema
Minimum:


OS: Windows XP, Vista, 7

Processor: AMD or Intel dual-core processor 2.2 GHz

Memory: 2048 MB RAM

Graphics: ATI or nVidia graphic card with at least 256 MB

DirectX®: 9.0c

Hard Drive: 6 GB HD space

Sound: DirectX 9 compatible soundcard

Other Requirements: Broadband Internet connection

Recommended:


OS:Windows XP, Vista, 7

Processor:AMD or Intel triple or quad-core processor 2.8 GHz

Memory: 2048 MB RAM

Graphics: ATI or nVidia graphic card with at least 512MB VRAM

DirectX®: 9.0c

Hard Drive: 6 GB HD space

Sound: DirectX 9.0c compatible soundcard

Other Requirements: Broadband Internet connection

Global Ops: Commando Libya – Produced by Gamebridge GbR Deutschland / Developed by Spectral Games. Unreal® is a registered trademark of Epic Games, Inc. Unreal® Engine, Copyright 1998 – 2011, Epic Games, Inc. Distributed by NBG Medien GmbH. All other trademarks are the property of their respective owners and used under license. All rights reserved. Global Ops: Commando Libya © 2011 by bitComposer Games GmbH
Recensioni utili dai clienti