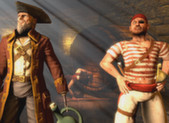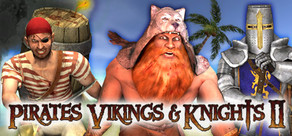 «Pirates, Vikings and Knights II» setter tre lag opp mot hverandre i en kamp for rikdom, makt og total dominasjon. Spillet inneholder flerfoldige spillemodi, inkludert «Territory», hvor spillere kjemper for å kontrollere nøkkelposisjoner på kartet; «Holy Grail», hvor målet er å holde det allmektige smykket og bruke dens kraft imot de...
Utgivelsesdato: 12 Feb 2010
Se HD-video
Dette spillet krever at du eier og har installert et spill med Source-spillmotoren, for eksempel Counter-Strike: Source, Half-Life 2 eller Day of Defeat: Source. Klikk på her for å se en komplett liste over spill som bruker Source-spillmotoren.
Spill Pirates, Vikings, and Knights II
Half-Life 2-modifikasjon
Anmeldelser
"The rampant silliness and absurd title hide a remarkably robust and satisfying melee game." - PC Gamer
Om spillet
«Pirates, Vikings and Knights II» setter tre lag opp mot hverandre i en kamp for rikdom, makt og total dominasjon. Spillet inneholder flerfoldige spillemodi, inkludert «Territory», hvor spillere kjemper for å kontrollere nøkkelposisjoner på kartet; «Holy Grail», hvor målet er å holde det allmektige smykket og bruke dens kraft imot de andre lagene; «Booty», hvor spillere kjemper for skatteskister; pluss mer.
Spil som «the Pirate Captain» med en fot av ved og hans angripspapegøye, «the Heavy Knight» med en full rustning og et kraftig sverd, eller «the Viking Berserker» med en så utrolig begjær for kamper at det forvandler han til en ustoppelig drapsmaskin. Andre klasser inkludert i spillet er «The Skirmisher», «Huscarl», «Gestir» og «Archer» med fremtidige klassrer som «Sniper», «Assassin», «Swashbuckler», «Bondi», «Man-at-Arms», «Cleric», «Seio-Kona» og «'Ealer».
Om du bruker muggen med krutt for å renske et område full av fiender eller spydet for å spidde dine døde motstandere til veggen, så vil du finne dette spillet både komisk og spennende.

Hjelpsomme kundeanmeldelser
Tittel:
Pirates, Vikings, and Knights II
Sjanger:
Action
Utvikler:
Octoshark Studios
Utgiver:
Octoshark Studios
Utgivelsesdato:
12 Feb 2010
Språk:
| | Grensesnitt | Full lyd | Teksting |
| --- | --- | --- | --- |
| Norsk | | | |
| Dansk | | | |
| Nederlandsk | | | |
| Engelsk | | | |
| Finsk | | | |
| Fransk | | | |
| Tysk | | | |
| Portugisisk | | | |
| Russisk | | | |
| Spansk | | | |
| Svensk | | | |
Se alle 11 støttede språk