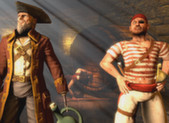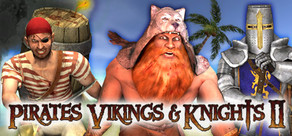 Pirates, Vikings, and Knights II scontra tre squadre una contro l'altra in una lotta per la ricchezza, il potere ed il dominio totale. Il gioco offre molte modalità di gioco: Territorio, dove i giocatori lottano per la conquista dei punti chiave della mappa; Santo Graal, dove i si sfidano per cercare di ottenere il sacro artefatto ed...
Data di rilascio: 12 Feb 2010
Guarda video HD
Il gioco richiede il motore fisico Source, utilizzato da giochi come Counter-Strike: Source, Half-Life 2, o Day of Defeat: Source. Fai clic qui per un elenco completo dei giochi che prevedono questo requisito.
Gioca a Pirates, Vikings, and Knights II
Mod di Half-Life 2
Recensioni
"The rampant silliness and absurd title hide a remarkably robust and satisfying melee game." - PC Gamer
Informazioni sul gioco
Pirates, Vikings, and Knights II scontra tre squadre una contro l'altra in una lotta per la ricchezza, il potere ed il dominio totale. Il gioco offre molte modalità di gioco: Territorio, dove i giocatori lottano per la conquista dei punti chiave della mappa; Santo Graal, dove i si sfidano per cercare di ottenere il sacro artefatto ed utilizzarne il potere contro le altre squadre; Bottino, dove i giocatori lottano per catturare e tenere al sicuro le casse del tesoro; e molto altro.
Gioca nei panni del Capitano Pirata, dotato di una gamba di legno ed un pappagallo d'attacco; del Cavaliere Pesante, dotato di una potente e grande spada ed una serie completa di armatura; o nei panni del Berserker Vichingo, la cui brama per le battaglie a volte si trasforma in una macchina mortale inarrestabile. Altre classi incluse nel gioco sono lo Schermagliatore, l'Huscarl, il Gestir e l'Arciere. Altre classi future includono il Cecchino, l'Assassino, lo Spadaccino, il Bondi, l'Uomo alle Armi, il Clerico, il Seio-Kona e il Guaritor'.
Sia che tu stia utilizzando il barilotto di polvere da sparo per ripulire un territorio pieno di nemici o il giavellotto per appendere i nemici morti ad una parete, troverai questo gioco sia divertente che entusiasmante.

Recensioni utili dai clienti
Titolo:
Pirates, Vikings, and Knights II
Genere:
Azione
Sviluppatore:
Octoshark Studios
Editore:
Octoshark Studios
Data di rilascio:
12 Feb 2010
Lingue:
| | Interfaccia | Audio completo | Sottotitoli |
| --- | --- | --- | --- |
| Danese | | | |
| Olandese | | | |
| Inglese | | | |
| Finlandese | | | |
| Francese | | | |
| Tedesco | | | |
| Norvegese | | | |
| Portoghese | | | |
| Russo | | | |
| Spagnolo | | | |
| Svedese | | | |
Visualizza tutti 11 lingue supportate