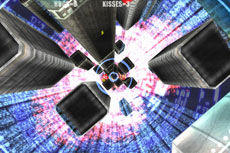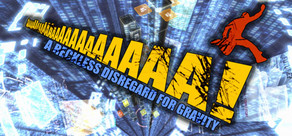 BASE jump through a floating city, creating your own stunts to delight your fans. Use quick reflexes to negotiate the intricate tangle of girders that make up the floating city. Flip protesters off for points!
Utgivelsesdato: 3. sep, 2009
Se HD-video
Kjøp AaaaaAAaaaAAAaaAAAAaAAAAA!!!
Pakker som inkluderer dette spillet
Kjøp AaaaaAAaaaAAA!!! + The Wonderful End of the World
Inkluderer 2 objekter: The Wonderful End of the World, AaAaAA!!! - A Reckless Disregard for Gravity
Nedlastbart innhold for dette spillet
Anmeldelser
"Aaaaa! wowed me with its boisterous celebration of carelessness illuminated by harsh neon lights... Quite a rush!"

PC Gamer (Nov '09)

"...charmed us from the moment we loaded up our beta..."

EDGE Magazine (Sep '09)

"Aaaaa! is still an original, frequently hilarious work that will renew your faith in the indie gaming scene."

Destructoid

"Aaaaa! is a simple concept pulled off spectacularly."

Indie Games - The Weblog

"Many hours were spent playing this surprisingly compelling BASE jumping simulator, which brilliantly conveys the fun Dejobaan must have had making it."

Gamasutra's Best Of 2009 (top 5 PC Games Honorable Mention)
Om spillet
BASEHOPP gjennom en svevende by, lag dine egne stunts og fryd dine fans
Du stuper ned en skyskraper, avhengig av raske reflekser for å komme deg gjennom det intrikate nettet av bæresøyler som utgjør den svevende byen. Alle øyer er på deg mens dommerne markerer poengsummen din. Et hundre poeng for omfavningen av de eksponerte stengerne mens du falt. Et tusen for å plante et kyss på siden av den bygningen. Som du vrir og vender deg, får du trådd tråden mellom to reklametavler, jubel fra fansen din møter deg.
Men selv om raske reflekser er viktige, er det rask tenking som gir deg seieren. Et kvartal unna, får du øye på en folkemengde av demonstranter som fordømmer idretten din, og når en beslutning på et brøkdels sekund . Du går ut av banen, stirrer dem rett inn i øynene, og gir dem fingeren. De eksploderer inn i raserianfall, men dommerne elsker det, og puffer deg opp til førsteplass. Alt du trenger å gjøre nå er å klare den landingen uten å ende opp som en løs sekk av brukne ben.
Inneholder
80 nivåer tar deg gjennom byer av svevende reklameskilt og bygninger, som sender deg flyvende bare centimeter unna en fjellside.

Unike spillmekanikker lar deg lage dine egne stunts for for å score.

Gi dine fans tommelen opp for poeng, eller irriter demonstrantene med uhøflige gester.

Plukk opp en boks spraymaling og tagg regjeringsbygninger for en ekstra utfordring.

En spesiel meditasjonsmodus som hjelper deg å slappe av, og en gratis antimeditasjonsmodus for å hjelpe deg å slutte å slappe av.
Systemkrav
OS:Windows XP/Vista

Processor:1.5 GHz processor

Memory:1GB

Graphics:3D card with 128MB video memory

DirectX®: 9.0c

Copyright ©2004-2009 by Dejobaan Games, LLC
Hjelpsomme kundeanmeldelser
Priser