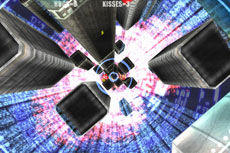 BASE jump through a floating city, creating your own stunts to delight your fans. Use quick reflexes to negotiate the intricate tangle of girders that make up the floating city. Flip protesters off for points!
Udgivelsesdato: 3 Sep 2009
Se HD-video
Køb AaaaaAAaaaAAAaaAAAAaAAAAA!!!
Pakker, der indeholder dette spil
Køb AaaaaAAaaaAAA!!! + The Wonderful End of the World
Indeholder 2 emner: The Wonderful End of the World, AaAaAA!!! - A Reckless Disregard for Gravity
Indhold, der kan downloades til dette spil
Anmeldelser
"Aaaaa! begejstrede mig med dens højtråbende fejring af skødesløshed set i lyset af skarpe neonlamper... Sikke en følelse!"

PC Gamer (Nov '09)

"...charmerede os fra det øjeblik vi startede betaen..."

EDGE Magazine (Sep '09)

"Aaaaa! er stadig et originalt og ofte hylende skægt stykke arbejde, som vil genopfriske din tro på indiespilscenen."

Destructoid

"Aaaaa! er et simpelt koncept, som er lavet på en iøjefaldende måde."

Indie Games - The Weblog

"Mange timer blev brugt på at spille denne overraskende tiltrækkende BASE jumping-simulator, som strålende videregiver hvor meget sjov Dejobaan må have haft, da de lavede det."

Gamasutra's Best Of 2009 (top 5 PC Games Honorable Mention)
Om spillet
BASE jump gennem en svævende by idet du skaber dine egne stunts for at glæde dine fans.
Du kaster dig ud fra en skyskraber og lægger din tillid til hurtige reflekser for at udregne den indviklede sammenfiltring af bjælker, som skaber den svævende by. Alle øjne falder på dig, mens dommerne udvælger din score. Et hundrede point for at kramme de blottede søjler, mens du falder. Et tusind point for at kysse siden af den bygning. Du vrider og drejer dig selv gennem nålens øje, som skaber jubel blandt dine fans.
Men hvor reflekser er vigtige, så er det hurtig tænkning der gør dig fortjent til førstepladsen. En blok væk ser du en gruppe demonstranter, der nedgør din sport, og du tager en hurtig beslutning. Du bryder kursen, stirrer dem i øjnene og giver dem fingeren. De eksploderer i en briste af vrede, men dommerne elsker det og lægger dig på førstepladsen. Det eneste du skal gøre nu, er at lande uden at brække alle knogler i kroppen.
Centrale elementer
80 baner der tager dig gennem byer bestående af svævende reklametavler og bygninger, flyver dig forbi bjerge, med blot centimeter fra dig og bjerget.

Unik spilmekanik der giver dig mulighed for at lave dine egne stunts for at score point.

Giv dine fans tommel-op for point, eller irriter demonstranter med uhøflige håndtegn.

Snup en bøtte spraymaling og lav tags på regeringsbygninger for en ekstra udfordring.

Speciel meditationstilstand, der hjælper dig med at slappe af, samt en gratis anti-meditationstilstand, der hjælper dig til at stoppe med at slappe af.
Systemkrav
OS:Windows XP/Vista

Processor:1.5 GHz processor

Memory:1GB

Graphics:3D card with 128MB video memory

DirectX®: 9.0c

Copyright ©2004-2009 by Dejobaan Games, LLC
Helpful customer reviews
Priser