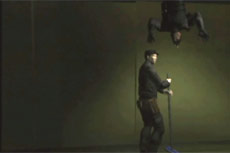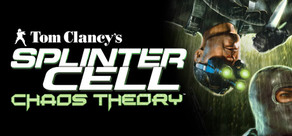 서기 2008년. 도시단위 대규모 정전 ... 증권 거래소 파괴 ... 국가 방위 시스템 전력 탈취 ... 이런 것들을 정보 전쟁이라 한다. 이러한 공격들을 방어하기 위해서는, 아군의 정보원들이 적진의 가장 깊은 곳에 침투하여 적국의 병사들 조차 모를 치명적인 정보들을 공격적으로 수집해야 할 필요가 있다. 당신의 이름은 샘 피셔, NSA 최고의 엘리트 블랙옵스 요원이다. 임무를 완수하기 위해서는 당신은 근거리에서 적을 사살하고, 전투용 나이프에서부터 실험용 랜드 워리어 라이플을 사용하며, 목 비틀기 같은 과격한 진압방법을 쓰게 될 것이다. 또한 합동 멀티플레이어 잠입 미션을 수행할 수 있다.
출시 날짜: 2005년 3월 29일
HD 비디오 보기
Tom Clancy's Splinter Cell Chaos Theory® 구매
이 게임이 포함된 패키지
게임 정보
서기 2008년.
도시단위 대규모 정전 ... 증권 거래소 파괴 ... 국가 방위 시스템 전력 탈취 ... 이런 것들을 정보 전쟁이라 한다.
이러한 공격들을 방어하기 위해서는, 아군의 정보원들이 적진의 가장 깊은 곳에 침투하여 적국의 병사들 조차 모를 치명적인 정보들을 공격적으로 수집해야 할 필요가 있다.
당신의 이름은 샘 피셔, NSA 최고의 엘리트 블랙옵스 요원이다. 임무를 완수하기 위해서는 당신은 근거리에서 적을 사살하고, 전투용 나이프에서부터 실험용 랜드 워리어 라이플을 사용하며, 목 비틀기 같은 과격한 진압방법을 쓰게 될 것이다. 또한 합동 멀티플레이어 잠입 미션을 수행할 수 있다. 팀워크가 있는 곳에 최고의 무기가 있다.
적들이 진화해 나간다면, 당신도 그래야만 한다.
치명적인 민첩성 - 달리기, 은신, 암살 등 놀라울 정도로 완벽하고 유연한 여러가지 동작들.
진정한 미래의 무기들 - 나이프에서부터 실험용 랜드 워리어 시스템까지 모든 것을 갖춘 최고의 무기들.
최고의 사실성 - 이제까지 그 어떤 시스템에서도 제공된 적이 없는 최고의 그래픽 기술 - 레그돌 시뮬레이션, 파티클 효과, 주변환경과의 완벽한 상호작용 연산을 제공하는 진보된 물리엔진.
궁극의 도전 - 개별적 성향을 지닌 뛰어난 인공지능. NPC는 자신이 속한 환경에 맞춰 자연스러운 행동을 보여주며 지나간 일들을 기억합니다.
놀라운 반복 플레이성 - 다중 진행경로와 선택 가능한 부가목표를 제공하는 열린 레벨 디자인.
Co-op 스텔스 - 멀티플레이어에서 친구들과 잠입팀을 꾸려 새로운 멀티플레이용 도전을 즐길 수 있습니다.
시스템 요구 사항
Supported OS: Microsoft Windows® 2000/XP
Processor: Intel Pentium III or AMD Athlon, 1.4 GHz (Pentium IV or Athlon 2.2 GHz recommended)
System Memory: 256 MB of RAM or above (512 MB recommended)
Video Card: 64 MB DirectX 9.0c compliant graphics card (128 MB recommended)
Sound Card: DirectX 9.0c compliant sound card (EAX 2.0 or higher recommended)
DirectX Version: DirectX® version 9.0c or higher
Hard Disk: 4 GB available hard disk space
Supported Peripherals: Windows compatible mouse and keyboard, joystick for Solo and Co-op modes
Multiplay: Broadband with 64 Kbps data transfer upload rate (128 kbps recommended)
Note: For the most up-to-date minimum requirement listings, please visit the FAQ for this game on our support website at: http://support.ubi.com.
© 2005 Ubisoft Entertainment. All Rights Reserved. Sam Fisher, Splinter Cell, Splinter Cell Chaos Theory, the Soldier icon, Ubisoft, Ubi.com, and the Ubisoft logo are trademarks of Ubisoft Entertainment in the U.S. and/or other countries.
유용한 고객 평가