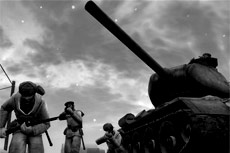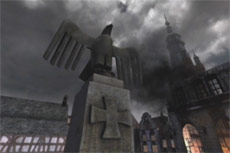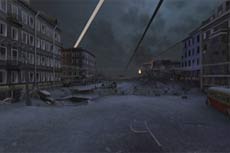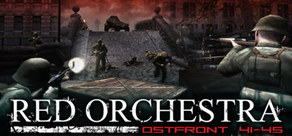 在永遠改變世界的戰爭劇場中奮戰到底。 與您的同袍在 Red Orchestra: Ostfront 41-45 中,於最荒涼的東線環境一同奮戰。 Red Orchestra 讓您置身於最寫實的第二次世界大戰環境中,於電腦上體驗最新的第一人稱多人戰鬥遊戲,玩家可以經歷最緊張刺激的戰鬥場景。 您可以扮演步兵,使用各式各樣的步兵武器,或者駕駛多種遊戲中提供的戰車,包括半履帶戰車到最著名的德國及蘇維埃重型坦克。 您能以最近的距離利用刺刀與敵人交鋒,也能使用 Soviet IS-2 上強大的 122mm 大砲攻擊敵人。 如果這樣還不夠,只要找到一個軍官與一台無線電,請求雷霆萬鈞的砲兵隊支援,一定能將敵人打得落花流水。
發售日: 2006年3月14日
觀看所有 6 預告片
購買 Red Orchestra: Ostfront 41-45
包含此遊戲之套件
購買 Tripwire Bundle - March 2014
包含 24 個項目: Red Orchestra: Ostfront 41-45, Killing Floor, Killing Floor Outbreak Character Pack, Killing Floor: Nightfall Character Pack, The Ball, Red Orchestra 2: Heroes of Stalingrad, Killing Floor: PostMortem Character Pack, Killing Floor "London's Finest" Character Pack, Dwarfs!?, Killing Floor: Steampunk Character Pack, Killing Floor - Steampunk Character Pack 2, Killing Floor - Ash Harding Character Pack , Killing Floor - Urban Nightmare Character Pack, Killing Floor - Harold Lott Character Pack, Killing Floor - Community Weapon Pack, Killing Floor - The Chickenator Pack, Killing Floor - Robot Special Character Pack, Killing Floor - Golden Weapons Pack, Rising Storm Game of the Year Edition, Killing Floor - Community Weapon Pack 2, Killing Floor - Golden Weapon Pack 2, Killing Floor - Reggie the Rocker Character Pack, Killing Floor - Community Weapons Pack 3 - Us Versus Them Total Conflict Pack, Killing Floor - Camo Weapon Pack
2013年11月23日
You can find Rising Storm (http://store.steampowered.com/app/234510/?snr=1_7_15__13), Red Orchestra 2 and the Red Orchestra Franchise pack 75% off on Steam right now.

With transports rolling in, and new battlefields to fight on heading towards the game, now is a great time to head to the front! If you haven't taken a look at RO 2 in awhile, now is a great time. Don't forget to check out the Classic mode designed for RO 1 players for a more tactical experience.
9 則回應
繼續閱讀
評論
"... RO is also one of the market's most unique new shooters"
4/5 Stars - Gamespy
Tripwire's attention to accessible realism is unrivaled"
- Computer Gaming World
"Red Orchestra offers exactly the right mixture of action and realism"
- PC PowerPlay
Red Orchestra scores "Best Multiplayer Game" for 2006 over at VooDoo Extreme.
Read the full review here.
關於此遊戲
在永遠改變世界的戰爭劇場中奮戰到底。 與您的同袍在 Red Orchestra: Ostfront 41-45 中,於最荒涼的東線環境一同奮戰。 Red Orchestra 讓您置身於最寫實的第二次世界大戰環境中,於電腦上體驗最新的第一人稱多人戰鬥遊戲,玩家可以經歷最緊張刺激的戰鬥場景。 您可以扮演步兵,使用各式各樣的步兵武器,或者駕駛多種遊戲中提供的戰車,包括半履帶戰車到最著名的德國及蘇維埃重型坦克。 您能以最近的距離利用刺刀與敵人交鋒,也能使用 Soviet IS-2 上強大的 122mm 大砲攻擊敵人。 如果這樣還不夠,只要找到一個軍官與一台無線電,請求雷霆萬鈞的砲兵隊支援,一定能將敵人打得落花流水。
在 13 種真實的東線戰場上體驗緊張的戰鬥
駕駛 16 種內外裝細節皆高度擬真的戰車
30 種真實的步兵武器選擇
完整支援 32 位玩家進行線上多人遊戲
獨特的設定 – 唯一一款以二次大戰俄國戰線為主題的 FPS 遊戲
在 800 公尺遠的地方,以高度擬真的戰車進攻敵軍
利用各式各樣的步兵武器與戰車,於根據真實資料設定的細節環境,例如市中心或鄉村場景中作戰
子彈及自動推進砲彈是如此真實,會讓您想要蹲下尋求掩護
與您的隊友透過語音傳送 (VoIP) 商討戰略
真實的 Immersive Sound FX 及 3D Positional Sound System
3D "Iron Sights" 及獨特的 3D Scope System
真實的武器使用系統,包括以步槍支撐休息
符合史實的砲兵系統
遠距離音效系統能動態營造出戰場氣氛
進階的玩家移動系統,具備俯衝通過障礙以及傾身的功能
自訂 8 種動畫系統,體驗高度寫實的玩家動畫
系統需求 (PC)
Minimum:

OS: Windows XP
Processor: 1.2 GHZ or Equivalent
Memory: 512 MB RAM
Graphics: 64 MB DX9 Compliant
Hard Drive: 2 GB free hard drive space
Sound:DX 8.1 Compatible Audio
Recommended:

OS: Windows XP
Processor: 2.4 GHZ
Graphcis: 128 MB DX9 Compliant with PS 2.0 support
Hard Drive: 2 GB free hard drive space
Sound Card: Eax Compatible
系統需求 (MAC)
OS: OS X version Leopard 10.5.8, Snow Leopard 10.6.3, or later.
Processor: Intel Mac
Memory: 512 MB RAM
Graphics: Nvidia or ATI GPU (Intel GPUs unsupported)
Hard Drive: 2 GB free hard drive space
Linux 系統需求
Minimum:

OS: Ubuntu 12.04 LTS, fully updated
Processor: 1.2 GHZ or Equivalent
Memory: 512 MB RAM
Graphics: Nvidia, ATI, or Intel GPU with hardware-accelerated drivers
Hard Drive: 2 GB free hard drive space
Recommended:

OS: Ubuntu 12.04 LTS, fully updated
Processor: 2.4 GHZ
Graphics: Nvidia, ATI, or Intel GPU with hardware-accelerated drivers
Hard Drive: 2 GB free hard drive space
具參考價值的客戶評論