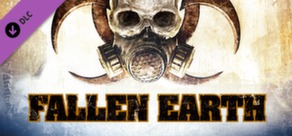 Este artigo requer o jogo base Fallen Earth Free2Play no Steam para poder ser jogado.

Data de lançamento: 6 Out, 2012
Comprar Fallen Earth - Survivalist Package
Acerca do Jogo
Be prepared for the trials ahead with the Fallen Earth Survivalist Package, available through Steam. The Survivalist Package includes:
1 Month Survivalist Premium - Enhanced XP, Faction and Death Toll (PvP currency) gain, more crafting slots, faster crafting time, exclusive monthly gifts and much, much more. Check here for more details.
400 G1 Credits - Start making purchases of exclusive gear in the cash shop Marketplace with 400 G1 Credits!
The Respirator - A menacing-looking black gasmask. The sleekest way to breathe clean in the Mojave.
Prairie Chicken Mount - Who needs a horse when you've got a giant mutated Prairie Chicken?
Blue Steel Lockbox Key - Rare lewt awaits! This valuable key allows you to open a Blue Steel Lockbox, which contains a random assortment of goodies, possibly including Cash Shop Items, tons of rare resources, Serendipity Gear and more!
To redeem the Fallen Earth Survivalist Package after purchase:
Log into your GamersFirst account at www.fallenearth.com.
Click the Redeem Code link in the upper right, or navigate directly to https://www.gamersfirst.com/marketplace/ingame/redeem_code.php.
Enter your code in the box and click enter. Choose your character and you are ready to go! Your Premium will immediately apply to your account, and your items will be sent to your chosen character's in-game mailbox.
Requisitos do Sistema
Minimum:

OS:XP SP3, Vista SP1, Windows 7
Processor:Intel Core 2 Duo 1.8 GHz or Athlon 64X2 2.4 GHz
Memory:2 GB RAM
Graphics:nVidia GeForce 6600 or ATI Radeon X1300
DirectX®:9.0c
Hard Drive:10 GB HD space
Other Requirements:Broadband Internet connection
Additional:3 GB Memory Required for Windows Vista Machines
Recommended:

Additional:3 GB Memory Required for Windows Vista Machines
This package grants 400 G1 Credits and Survivalist Premium for Fallen Earth to a single GamersFirst account, one use only.

The other items are bound to a single character, which you must choose when you redeem your code. Only that character will receive those items.

Only 1 Survivalist Package may be applied per account.
Ainda não há análises públicas sobre este produto
Podes escrever a tua própria análise deste produto para partilhar a tua experiência com a comunidade. Utiliza a zona acima dos botões de compra nesta página para escreveres a tua análise.
Título:
Fallen Earth - Survivalist Package
Género:
Grátis para Jogar
,
Ação
,
Aventura
,
RPG
,
"Massively Multiplayer"
Programador:
Reloaded Productions
Editora:
Gamersfirst
Data de lançamento:
6 Out, 2012
Idiomas:
| | Interface | Vozes | Legendas |
| --- | --- | --- | --- |
| Inglês | | | |