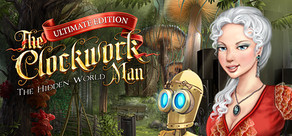 A strange obsidian artifact leads Miranda on a quest for The Hidden World, a land lost in time and glimpsed through legends.
Çıkış Tarihi: 23 Eyl 2011
HD Videoyu İzle
The Clockwork Man: The Hidden World Satın Alın
Bu oyunu içeren paketler
The Clockwork Man Bundle Satın Alın
Includes: The Clockwork Man and The Clockwork Man: The Hidden World
Oyun Açıklaması
Benzersiz bir Gizli Nesne Bulma Macera oyunu olan The Clockwork Man: The Hidden World'de fantastik bir maceraya hazırlanın. Buhar yakıtı teknolojisinin kullanıldığı paralel Viktorya çağı evreninde geçen bu sıradışı hikayede Miranda ve en iyi arkadaşı Sprocket'e katılın.
Zamanda kaybolmuş ve efsanelerde adına rastlanan bir diyar olan The Hidden World görevinde Miranda'ya tuhaf bir obsidiyen eser yol göstermektedir. Sürekli bir bilgi açlığı ile silahlanan Miranda yolculuğuna başlar, ama yalnız değildir! Attığı her adımı inatla takip eden bilinmeyen bir tehdit, kendi çıkarları için gücünün yettiği her şeyi yapacaktır.
Temel Özellikler
Nefes kesici Kaydırılabilir ve Yakınlaştırılabilir elle boyanmış sahneleri keşfedin!
Yenilikçi ve ilgi çekici bulmacaları çözün!
Gelişmiş aşamalı ipucu sistemini de içeren Sprocket'in geliştirilmiş aletlerine danışın!
Görevinizde ilerlemek için renkli karakterlerle iletişim kurun!
İlk oyundan iki kat daha fazla süren oyunun saatlerce keyfini çıkarın!
Ultimate Sürüm avantajları
Ek su altı bölümü!
Sprocket için ek alet: Sonar!
Gizli nesne eğlencesini saatlerce yaşayabileceğiniz Serbest Oyun modu!
PC Sistem Gereksinimleri
OS: Windows XP/Vista/7
Processor: 2.0 GHz or better
Memory: 1024 MB or more
Hard Disk Space: 260 MB
Video Card: DirectX 8.0 compatible video card or higher
DirectX®: 8.0
Mac Sistem Gereksinimleri
OS: OS X version Leopard 10.5.8, Snow Leopard 10.6.3, or later.
Processor: 2.0 GHz or better
Memory: 1024 MB or more
Hard Disk Space: 270 MB
Linux Sistem Gereksinimleri
OS: 32-bit Ubuntu 6+ or Fedora 6 / Open Suse 10.2 / Mandriva 2007 (Kernel 2.6, GLIB 2.4, GTK 2)
Processor: 2.0 GHz
Memory: 1024 MB
Hard Drive: 270 ΜΒ
Yararlı müşteri incelemeleri
Başlık:
The Clockwork Man: The Hidden World
Tür:
Macera
,
Bağımsız Yapımcı
,
Basit Eğlence
Geliştirici:
Total Eclipse
Yayımcı:
Total Eclipse
Çıkış Tarihi:
23 Eyl 2011
Diller:
| | Arayüz | Seslendirme | Altyazı |
| --- | --- | --- | --- |
| İngilizce | | | |
| Flemenkçe | | | |
| Fransızca | | | |
| Almanca | | | |
| İtalyanca | | | |
| İspanyolca | | | |
| İsveççe | | | |
| Portekizce | | | |
Tümünü gör 8 desteklenen diller