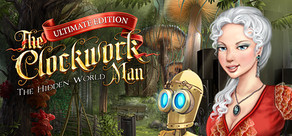 Um estranho artefacto obsidiano leva Miranda a uma missão pelo Mundo Oculto, uma terra perdida no tempo e vislumbrada por lendas.
Data de lançamento: 23 Set, 2011
Ver vídeo HD
Comprar The Clockwork Man: The Hidden World
Pacotes que incluem este jogo
Comprar The Clockwork Man Bundle
Includes: The Clockwork Man and The Clockwork Man: The Hidden World
Acerca do Jogo
Prepara-te para uma fantástica aventura em The Clockwork Man: The Hidden World, um jogo único de Aventura e Objetos Escondidos! Junta-te a Miranda e ao seu melhor amigo, Sprocket, num conto fantástico através de um mundo paralelo vitoriano onde o vapor abastece a tecnologia.
Um estranho artefacto obsidiano conduz Miranda através da busca pelo The Hidden World, um local perdido no tempo e vislumbrado através das lendas. Munida de uma incessante sede pelo conhecimento, Miranda embarca na sua jornada — mas não está sozinha! Perseguindo persistentemente todos os seus passos, uma ameaça desconhecida fará tudo o que estiver ao seu alcance para desvendar a lenda para seu próprio benefício.
Funcionalidades-Chave
Explora deslumbrantes cenas deslocáveis e com zoom ajustável pintadas à mão!
Resolve inovadores e emocionantes puzzles!
Utiliza as engenhocas atualizadas do Sprocket, incluindo um sistema avançado de dicas progressivas!
Interage com personagens coloridas para avançares na tua demanda!
Desfruta de várias horas de jogo; duas vezes mais do que no primeiro!
Benefícios da Edição Ultimate
Um capítulo subaquático adicional!
Uma engenhoca adicional para o Sprocket: o Sonar!
Um modo de Jogo Livre com inúmeras horas de diversão com objetos escondidos!
Requisitos de Sistema (PC)
SO: Windows XP/Vista/7
Processador: 2.0 GHz ou melhor
Memória: 1024 MB ou mais
Espaço no Disco Rígido: 260 MB
Placa de Vídeo: Placa de vídeo compatível com DirectX 8.0 ou mais
DirectX®: 8.0
Requisitos de Sistema (Mac)
SO: Versão OS X Leopard 10.5.8, Snow Leopard 10.6.3, ou mais recente.
Processador: 2.0 GHz ou melhor
Memória: 1024 MB ou mais
Espaço no Disco Rígido: 270 MB
Requisitos de Sistema (Linux)
OS: 32-bit Ubuntu 6+ or Fedora 6 / Open Suse 10.2 / Mandriva 2007 (Kernel 2.6, GLIB 2.4, GTK 2)
Processor: 2.0 GHz
Memory: 1024 MB
Hard Drive: 270 ΜΒ
Análises úteis de clientes
Título:
The Clockwork Man: The Hidden World
Género:
Aventura
,
Indie
,
Casual
Programador:
Total Eclipse
Editora:
Total Eclipse
Data de lançamento:
23 Set, 2011
Idiomas:
| | Interface | Vozes | Legendas |
| --- | --- | --- | --- |
| Português (Portugal) | | | |
| Inglês | | | |
| Holandês | | | |
| Francês | | | |
| Alemão | | | |
| Italiano | | | |
| Espanhol | | | |
| Sueco | | | |
Ver todos 8 idiomas disponíveis