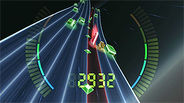 You are a Data Jammer, an elite virtual commando tasked with one purpose: Infiltrate the virtual Vaults of Ouroboros, the Military Industrial Complex, and take down The System!
Data di rilascio: 24 Ott 2011
Guarda video HD
Informazioni sul gioco
Data Jammers: FastForward è un gioco di guida e distruzione tridimensionale sempre in movimento, ambientato in un mondo wireframe retrò dai tracciati di gara impossibili. Aggirati in cerca di prede tra flussi tortuosi di bit in mezzo a bizzari ambienti geometrici accompagnati da paesaggi sonori oltremondani, mentre il tuo agile avatar affronta nemici, insidie e boss guardiani sempre più pericolosi lungo la sua strada!
Tu sei un Data Jammer... ovvero un D.O.O.D. (Digital Operative, Optical Data), un commando d'élite virtuale con un solo scopo: infiltrarti nella banca dati di Ouroboros, il Complesso Industriale Militare, e spegnere Il Sistema!
La Deep Grid. La Zona Selvaggia. Hai sentito dei vaghi pettegolezzi riguardo "un network dietro il network"; una matrice sub-cibernetica di flussi di dati segreti utilizzata esclusivamente dalle Forze Oscure del mondo. Ora, dopo diverse pericolose incursioni oltre la vasta Pulsor City, conosci la verità -- Ouroboros esiste! In un gesto di sfida, ti sei addestrato per lavorare coi Buoni per preservare la Libertà, sconfiggendo i Custodi della Rete e smascherando i sinistri piani di quei malvagi individui che lo usano per cospirare e opprimere la gente!
Dai creatori de Brainpipe: A Plunge to Unhumanity; Weird Worlds: Return to Infinite Space; Dr. Blob's Organism; e Strange Adventures in Infinite Space.
Caratteristiche principali:
Un gameplay arcade e frenetico che ti spingerà verso uno stile di vita Zen
Grafica 3D e audio accattivanti
Tracciati di gara allucinanti
Ambienti, avversari e pericoli sempre maggiori in ogni livello
Facile da imparare e da giocare
Sessioni di gioco a tavoletta
Rigiocabilità eccellente
Tutorial interattivo
Supporta sia il controller che la buona vecchia tastiera
Requisiti di sistema
Minimum:

OS:XP
Processor:Pentium 4 2GHz
Memory:512 MB RAM
Graphics:Intel GMA 950
DirectX®:dx80
Hard Drive:128 MB HD space
Sound:16-bit stereo sound
Recommended:

OS:XP, Vista or Win7
Processor:Core 2 Duo or better
Memory:1024 MB RAM
Graphics:NVidia GeForce 8 series or better
DirectX®:dx90
Hard Drive:128 MB HD space
Sound:16-bit stereo sound
Data Jammers: FastForward © Copyright 2011 Digital Eel. All rights reserved.
Recensioni utili dai clienti
Titolo:
Data Jammers: FastForward
Genere:
Azione
,
Indie
Sviluppatore:
Digital Eel
Editore:
Digital Eel
Data di rilascio:
24 Ott 2011
Lingue:
| | Interfaccia | Audio completo | Sottotitoli |
| --- | --- | --- | --- |
| Inglese | | | |