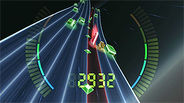 Sie sind ein Daten-Störer, eine virtuelle Elite-Kommandotruppe mit einem einzigen Ziel: Infiltrieren Sie die virtuellen Tresore von Ouroboros, dem industriellen Militärkomplex, und sabotieren Sie das System!
Veröffentlichung: 24. Okt. 2011
HD-Video ansehen
Über das Spiel
Data Jammers: FastForward ist ein schnelles, dreidimensionales Renn- und Zerstörungsspiel, das in einer Retro-Wireframe-Welt mit unmöglichen Rennstrecken spielt. Bewegen Sie sich durch drehende Bitströme inmitten bizarrer geometrischen Umgebungen und Geräuschkulissen, während ihr flinker Avatar auf dem Weg gefährlichen Wesen, Gefahren und Bosswächtern begegnet!
Sie sind ein Data Jammer, genauer gesagt ein D.O.O.D. (Digital Operative, Optical Data), ein virtuelles Elitekommando beauftragt mit einem Ziel: Infiltrieren Sie die virtuellen Tresore von Ouroboros, dem militärisch-industriellen Komplex, und fahren Sie das System herunter!
Das Deep Grid. Die Wildnis. Sie haben von den stillen Gerüchten über ein "Netzwerk hinter dem Netzwerk" gehört. Eine Subcyber-Matrix verdeckter Datenströme, die nur von den dunklen Mächten der Welt verwendet wird. Nun, nach einigen riskanten Ausflügen über Pulsor City hinaus, kennen Sie die Wahrheit - Ouroboros existiert! Sie haben trainiert, um nun die guten Jungs zu arbeiten und die Freiheit durch das Bezwingen der verschlagenen Grid Guardians und das Aufdecken der finsteren Geheimnisse dieser Verbrecher, die sie zum Verschwören und Unterdrücken gebrauchen, zu wahren!
Von den Machern von Brainpipe: A Plunge to Unhumanity, Weird Worlds: Return to Infinite Space, Dr. Blob's Organism und Strange Adventures in Infinite Space.
Hauptmerkmale:
Berauschendes Arcade-Gameplay
Atemberaubende 3D-Grafiken und Tonkulisse
Unglaubliche Rennstrecken
Zunehmend herausforderndere Umgebungen, Kreaturen und Gefahren pro Level
Einfach zu erlernen und zu spielen
Lebhafte Spielrunden
Hervorragender Wiederspielwert
Spielerisches Tutorial
Unterstützt Gamepads und die gute alte Tastatur
Systemvoraussetzungen
Minimum:

Betriebssystem:XP
Prozessor:Pentium 4 2 GHz
Speicher:512 MB RAM
Grafik:Intel GMA 950
DirectX®:dx80
Festplatte:128 MB HD frei
Sound:16-bit Stereo-Soundkarte
Empfohlen:

Betriebssystem:XP, Vista oder Windows 7
Prozessor:Core 2 Duo oder besser
Speicher:1024 MB RAM
Grafik:NVidia GeForce 8-Serie oder besser
DirectX®:9.0
Festplatte:128 MB freier Speicherplatz
Sound:16-Bit Stereo-Soundkarte
Data Jammers: FastForward © Copyright 2011 Digital Eel. All rights reserved.
Hilfreiche Kundenreviews
Titel:
Data Jammers: FastForward
Genre:
Action
,
Indie
Entwickler:
Digital Eel
Publisher:
Digital Eel
Veröffentlichung:
24. Okt. 2011
Sprachen:
| | Oberfläche | Ton | Untertitel |
| --- | --- | --- | --- |
| Englisch | | | |