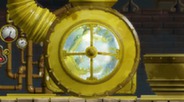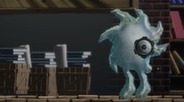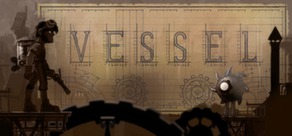 Living liquid machines have overrun a world of unstoppable progress and their inventor must stop the chaos in this game about a man with the power to bring ordinary matter to life!
Julkaisupäivä: 1 Maaliskuu 2012
Katso kaikki 2 traileria
Arvostelut
""Just like Portal 2, Vessel is about a universally recommended game as can exist. It's charming, entertaining, stimulating, and a hell of an experience for the price point.""
9/10 – Machinima

""One of the best puzzle games since Little Big Planet or Portal. Yeah, it's that good.""
5/5 – Piki Geek

""Vessel is around a quarter of the price of a AAA game, but it contains more flair and ingenuity than most blockbuster games can muster.""
9/10 – GameSpy

Tietoja pelistä
Elävät nestekoneet ovat valloittaneet tämän pysäyttämättömän kehityksen maailman, ja on niiden keksijän, Arkwrightin rooli pysäyttää niiden aiheuttama kaaos. Vessel on peli miehestä, jolla on voima tuoda jokapäiväinen tarkoitus elämälle seurauksineen.
Avaintietoja:
Nestepeli - Vessel perustuu pitkälti optimaalisoituun nesteiden simulointiin, johon kuuluu esimerkiksi virtaava vesi, polttavan kuuma laava ja höyry, reagoivat kemikaalit, hohtava mönjä, ja salaperäinen 'protoplasma'. Joka nesteellä on omat uniikit ominaisuutensa ja nesteitä sekoittamalla voi saavuttaa vaikuttavia efektejä.

Herätä neste eloon – Ole vuorovaikutuksessa 'Fluro'-olentojen kanssa. Ne koostuvat kokonaan nesteestä. Jokainen niistä säilyttää sen nesteen ominaisuudet, josta ne on tehty antaen niille kyvyn esimerkiksi sulaa, muodostua uudelleen, imeä tai räjähtää.

Uniikkeja arvoituksia – Ratkaise arvoituksia yhdistämällä joka olennon uniikkia käyttäytymistä nesteeseen josta ne on tehty. Pelimaailman jokainen kuvakulma on fyysisesti simuloitu, ja kaikki arvoitukset perustuvat nesteiden simulointiin. Pudota 'Juoma'-Fluro ja houkuttele sitä mönjäruiskeella. Luo 'Pimeä'-Fluro ja jahtaa sitä valolla. Nesteet ja fysiikat eivät luo pelkästään Vesselin estetiikkaa, vaan myös vahvan perustan pelimaailmalle.

2D/3DHybridi taidetyyli – Tutustu fantastiseen maailmaan, jossa on yksityiskohtaisia koneita ja omituisia, hämmästyttäviä ympäristöjä. 2D käsinpiirretty tuntuma yhdistettynä 3D-karttoihin, valaistukseen, ja syvyyksiin, jotka luovat pelille kuin toisesta maailmasta olevan ulkonäön.

Päivitä varustuksesi – Käytä salaperäistä protoplasmanestettä, jota löytyy maailmasta, päivittääksesi varusteitasi saavuttaen uusia voimakkaita tapoja manipuloida nesteitä.

Jon Hopkins Soundtrack – Mukana tulee myös täysipitkä soundtrack elektronisen musiikin ihmeeltä, Jon Hopkinsilta, joka on kansainvälisesti kuuluisa työstään Brian Enon, Imogen Heapin ja Coldplayn kanssa.

Koko pelin kokemus - Vessel tarjoaa sisältöä yli kymmeneksi tunniksi monien maailmojen väliltä tuoden mukanaan useita uniikkeja nesteitä ja Fluroja.
Järjestelmävaatimukset
OS: Windows 7 / Vista / XP

Processor: Dual Core 2.0GHz or equivalent processor

Memory: 2GB System RAM

Hard Disk Space: 1.5GB

Video Card: ATi Radeon HD 2400 or NVIDIA GeForce 7600 or better (Shader Model 3.0 needs to be supported)

DirectX®: 9.0c

Sound: DirectX compatible

Hyödylliset arvostelut
Palkinnot
2010 IGF Finalist - Nominated for Technical Excellence
2010 IGC Finalist