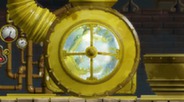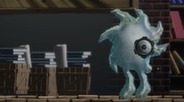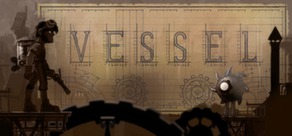 Living liquid machines have overrun a world of unstoppable progress and their inventor must stop the chaos in this game about a man with the power to bring ordinary matter to life!
Data di rilascio: 1 Mar 2012
Guarda tutti e 2 i trailer
Recensioni
""Just like Portal 2, Vessel is about a universally recommended game as can exist. It's charming, entertaining, stimulating, and a hell of an experience for the price point.""
9/10 – Machinima

""One of the best puzzle games since Little Big Planet or Portal. Yeah, it's that good.""
5/5 – Piki Geek

""Vessel is around a quarter of the price of a AAA game, but it contains more flair and ingenuity than most blockbuster games can muster.""
9/10 – GameSpy

Informazioni sul gioco
Delle macchine a base di un liquido vivente hanno invaso questo mondo di progresso senza limiti, e spetta al loro inventore, Arkwright, fermare il caos che stanno provocando. Vessel è un gioco su un uomo con il potere di portare ordinaria materia in vita, e tutte le conseguenze che ne derivano.
Elementi chiave:
Gameplay a base di fluidi - Vessel è costruito a partire da un simulatore di fluidi ottimizzato che permette lo scorrere di acqua, lava bollente e vapore, reagenti chimici, melma luminescente, il misterioso 'protoplasma' e molto altro ancora. Ogni liquido ha proprietà uniche e si mescola con gli altri generando effetti spettacolari.

Porta i liquidi in vita – Interagisci con le creature 'Fluro' formate interamente da fluidi simulati. Ognuna conserva le proprietà del liquido di cui è fatta, donandole la possibilità di sciogliere, ricomporsi, assorbire, esplodere e molto altro.

Enigmi unici – Risolvi gli enigmi combinando i comportamenti unici di ogni creatura con il liquido di cui è fatta. Ogni elemento dell'ambiente è una simulazione fisica, e tutti gli enigmi sono basati sulla simulazione dei fluidi. Libera un 'Fluro Bevitore' e attiralo diffondendo melma. Crea un 'Fluro Oscuro' e allontanalo con la luce. Fluidi e fisica non sono un'aggiunta estetica in Vessel, ma piuttosto la base di tutto il gameplay.

Stile artistico misto di 2D e 3D – Esplora un mondo di fantastiche e dettagliate macchine e strani e incantevoli ambienti. Le texture 2D disegnate a mano combinate con normali mappe, luci e profondità in 3D creano visuali uniche e mistiche.

Potenzia il tuo equipaggiamento – Usa il misterioso liquido protoplasmatico trovato negli ambienti di gioco per potenziare il tuo equipaggiamento, ottenendo nuovi potenti modi di manipolare i liquidi.

Colonna sonora di Jon Hopkins – E' inclusa una traccia audio completa del prodigio della musica elettronica Jon Hopkins, conosciuto a livello internazionale per le sue collaborazioni con Brian Eno, Imogen Heap e i Coldplay.

Esperienza di gioco completa - Vessel include oltre 10 ore di contenuti tra vari mondi, con tipi di liquidi e Fluro unici.
Requisiti di sistema
OS: Windows 7 / Vista / XP

Processor: Dual Core 2.0GHz or equivalent processor

Memory: 2GB System RAM

Hard Disk Space: 1.5GB

Video Card: ATi Radeon HD 2400 or NVIDIA GeForce 7600 or better (Shader Model 3.0 needs to be supported)

DirectX®: 9.0c

Sound: DirectX compatible

Recensioni utili dai clienti
Premi
2010 IGF Finalist - Nominated for Technical Excellence
2010 IGC Finalist