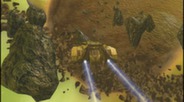 Gemini est un endroit dangereux rempli de richesses attendant d'être revendiquées par le plus habile et le plus audacieux des capitaines.
Date de parution: 16 fév 2012
Visionner la vidéo HD
Contenu téléchargeable disponible pour ce jeu
À propos du jeu
Starpoint Gemini est un jeu de stratégie tactique et de simulation basé sur le contrôle de vaisseaux individuels ainsi que sur leurs atouts. Dans SPG, les capitaines de navire et leurs compétences de diverses natures sont destinés à faire la différence sur les champs de batailles à grande échelle. Le jeu prend place dans un univers de science-fiction où diverses orientations technologiques existent côte à côte.
Après avoir passé presque vingt années piégé dans le rift de la faille Stasis, inconscient de l'écoulement du temps, le joueur émerge dans l'espace logique pour trouver Gemini et tout ce qu'il sait et qui a changé au-delà de la reconnaissance.
La Porte était le point d'entrée du système Gemini, mais les évènements qui s'y sont déroulés il y a deux siècles ont fermé ce trou de souris et pratiquement isolé le système du reste de la galaxie. L'isolation et l'apparence des très nombreuses anomalies ont permis des avancées technologiques imprévues. Intrigues politiques, cupidité et lutte pour le pouvoir ont modelé le destin de Gemini et le temps est presque venu pour les règlements de compte.
Les joueurs traverseront librement le riche et immensément rempli système solaire Gemini, combattront des escarmouches avec des vaisseaux rogues, feront du commerce de biens, rechercheront les anomalies, achèteront de nouveaux vaisseaux, amélioreront leurs vaisseaux avec une technologie ultra-moderne, augmenteront leur expérience et rang pour apprendre des manœuvres encore plus puissantes et enfin, utiliseront tout cela lors de combats colossaux contre d'autres flottes de vaisseaux ennemis. Gemini est un endroit dangereux avec des richesses attendant d'être clamées par le plus courageux et le plus doué des capitaines.
Caractéristiques :
Espace ouvert attendant d'être exploré.

Système solaire Gemini vaste et intéressant, divisé en plus de cinquante grands secteurs connectés via des torrents de l'hyperespace, appelés T-Gates.

Nombreuses stations spatiales, bases minières sur astéroïdes, champs d'astéroïdes remplis de minerai, anomalies apparaissant de manières aléatoires, rencontres aléatoires avec des pirates hostiles ou vaisseaux en détresse, convois commerciaux, patrouilles militaires, nébuleuses et bien plus encore. Tous présents pour créer un système solaire vivant et offrir une expérience immersive et profonde.

Scénario profond et intriguant avec des retournements et complots, emmenant le joueur plus loin dans l'histoire principale.

Nombreuses missions additionnelles scriptées offrant une pause dans l'histoire principale et donnant une idée plus claire de ce qu'est le Starpoint Gemini.

Plus de 300 missions Solitaire peuvent être trouvées et effectuées sur les stations via la commission Solitaire.

Interface intuitive et facile à prendre en main.

Divers systèmes de compétences qui offrent plus de 30 manœuvres de vaisseaux améliorables.

Augmenter votre rang vous mène vers plus d'options comme la capacité d'acheter de plus gros vaisseaux.

Faites votre choix parmi plusieurs avantages pour obtenir des bonus passifs supplémentaires.

Les navires ont une conception spéciale des aptitudes, ce qui permet aux classes mêmes les plus petites d'être utiles lors des combats de flottes.

Améliorez vos vaisseaux avec plus de 300 systèmes, des armes aux boucliers énergétiques en passant par les noyaux de puissance ou les propulseurs.

Engagez du personnel qualifié pour vos vaisseaux pour obtenir des bonus de talent.

Les évènements globaux aléatoires influenceront presque tous les aspects du monde du jeu (comme une chance de rencontrer des pirates ou les prix des marchandises).

Un "Journal de bord du Capitaine" accessible vous permettra de suivre les missions et évènements en cours.
Le contenu additionnel Gladiators comprend :
Quatre nouveaux navires ajoutés à la collection déjà très importante de vaisseaux uniques

50 nouveaux systèmes pour vaisseaux qui ne peuvent être remportés que lors des victoires dans Gladiators

Outer Horizon, un nouveau secteur de Gemini où le tournoi spécial est organisé

Des séries de situations de combats difficiles comme le Free-for-all et batailles par Équipes

Totalement gratuit pour remercier tout ceux qui nous ont soutenu lors du développement et qui nous ont aidé à améliorer Starpoint Gemini
Configuration requise
Minimum :


Système d'exploitation : Windows XP, Vista ou 7

Processeur : Simple cœur 2.0 GHz

Mémoire vive : 768 Mo de RAM

Carte graphique : Carte compatible DirectX 9.0c avec support Shader 3.0 et comportant 128 Mo de mémoire vidéo ou meilleure

DirectX® : DirectX 9.0c

Disque dur : 3 Go d'espace disque disponible

Son : Carte son compatible DirectX 9.0c
Starpoint Gemini © 2011 Little Green Men Games. Developed by Little Green Men Games. Licensed exclusively worldwide to and published by Iceberg Interactive B.V. All brands, product names, and logos are trademarks or registered trademarks of their respective owners. All rights reserved. Made in Europe.
Évaluations intéressantes des utilisateurs