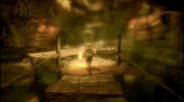 Una combinación única de juego orientado a la acción y resolución de puzles clásica
Fecha de lanzamiento: 1 Ene 2010
Ver vídeo en alta definición
Comprar Adam's Venture Episode 1: The Search For The Lost Garden
Paquetes que incluyen este juego
Comprar Adam's Venture Complete Pack
Incluye: Episodio 1: The Search For The Lost Garden, Episodio 2: Solomons Secret, Episodio 3: Revelations
Acerca del juego
Adam's Venture es un nuevo juego de acción y exploración. Hecho realidad desde una perspectiva en tercera persona gracias al motor gráfico Unreal 3™, a los fanáticos de la acción les espera una joya visual.
Ambientado en la época de 1920, Adam's Venture ofrece una combinación única de juego orientado a la acción con la clásica resolución de acertijos, lo que te lleva a un épico viaje a Oriente Medio para descubrir el legendario Jardín Perdido del Edén... pero un antiguo mal intentará evitar que lo consigas.
The Search for the Lost Garden es el primer episodio de la saga Adam's Venture, y sirve como introducción al joven explorador Adam Venture. Descifrando reliquias en una antigua Iglesia Templaria, Adam devela memorias escritas hace ya tiempo por un cruzado que luchó con Ricardo Corazón de León en Tierra Santa. Las memorias hablan de un misterioso lugar con laberintos de cuevas y grutas guardando la cabecera de cuatro grandes ríos. ¿Podría este lugar ser el legendario Jardín del Edén? Este descubrimiento inicia una gran aventura. Acompañado por el Profesor Jacques Saint Omair y su novia Evelyn, el equipo se embarca en una aventura épica llena de misterio, intriga y peligro en la búsqueda por descubrir el legendario lugar de nacimiento de la humanidad.
Características Principales:
Primer juego de la serie por episodios

Utiliza tecnología de captura de movimientos para animaciones realistas

Desarrollado utilizando el aclamado Unreal® EngineTM 3

Brillantemente hecho en un vívido 3D para ofrecer sorprendentes efectos visuales y entornos verdaderamente impresionantes

Jugabilidad sin violencia, apto para toda la familia

Historia rica y envolvente que dota de tintes históricos a una aventura clásica

Interactúa físicamente con los objetos y con tus alrededores, metiéndote realmente en el papel

Los retadores acertijos y una mecánica orientada a la acción aportan una profundidad totalmente nueva al género de aventura
Requisitos del sistema
Mínimo:


SO: Windows 2000 / XP

Procesador: Intel Pentium a 2.0 GHz o equivalente de AMD

Memoria: 512 MB de RAM

Disco Duro: 1 GB de espacio libre

Gráficos: Gráfica con soporte para Pixel Shader 3.0 *

Versión de DirectX®: 9.0c

Adicional: *No todos los modelos para portátil han sido probados y puede que algunos no proporcionen las características adecuadas para cumplir los elevados requisitos de hardware
Recomendado:


SO: Windows 7

Procesador: Intel Pentium Dual Core o equivalente de AMD

Memoria: 1 GB de RAM
Adam's Venture Episode 1: The Search For The Lost Garden © 2012 Vertigo Games. Developed by Vertigo Games. Licensed exclusively worldwide to and published by Iceberg Interactive B.V. All brands, product names, and logos are trademarks or registered trademarks of their respective owners. All rights reserved. Made in Europe.
Análisis útiles de usuarios
Título:
Adam's Venture Episode 1: The Search For The Lost Garden
Género:
Acción
,
Aventura
,
Indie
Desarrollador:
Vertigo Games BV
Editor:
Iceberg Interactive
Fecha de lanzamiento:
1 Ene 2010
Idiomas:
| | Interfaz | Voces | Subtítulos |
| --- | --- | --- | --- |
| Inglés | | | |