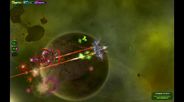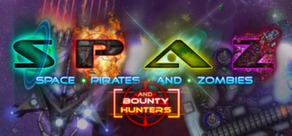 Esplora una Galassia generata casualmente popolata da fazioni, nemici, missioni ed oggetti dandoti un'esperienza diversa ad ogni partita.
Data di rilascio: 15 ago 2011
Guarda video HD
Acquista Space Pirates and Zombies(SPAZ)
AFFARE DEL GIORNO! L'offerta termina fra
8 settembre
Hi everyone,

Thanks to your overwhelming support for SPAZ, we have now been working on a sequel for the past 2 years. We have made a lot of changes due to player input and our own growth as designers. SPAZ 2 really will be an entirely new experience but in a familiar universe. We are hoping to release SPAZ 2 in the spring of 2015.

Please tell us what you think. Your feedback makes a huge difference!
http://store.steampowered.com/app/252470/


35 commenti
Ulteriori informazioni
Recensioni
"Gli sviluppatori hanno intenzione di continuare ad espandere il gioco in futuro, ma perchè aspettare? È già magnifico da ora..."
9/10 – Atomic Gamer
"Mi basti dire che Space Pirates and Zombies non è solo un grande GDR d'azione open-world nella tradizione di Star Control. È anche una rara espressione di zombie appartenente alla schiera di Dead Rising ed Atom Zombie Smasher."
A – Gameshark
"È un gioco molto solido che è ovviamente fatto di passione ed è un grande esempio del rinascimento indie che stiamo vivendo ultimamente. A mio parere, è una delle cose migliori che 15 dollari possano comprare."
90/100 – RTS Guru
Informazioni sul gioco
At its core, Space Pirates and Zombies is an action based, skill oriented, top down space combat game. It's similar to the ones we knew and loved in years past, but now using full physics simulation and modern graphics for those oh so pretty explosions. But as you dig deeper, SPAZ becomes much more.
Instead of flying a single ship, you are in charge of an ever growing and evolving fleet, unlocking the rich tactical elements of SPAZ, all accessed at the touch of a button. Issue orders, change ships, apply fleet AI settings, all on the fly. At any moment the battle can change, and the Tactics Panel gives you the tools to make the battle turn in your favor.
As a layer on top of the action and tactics, we have a detailed technology and levelup system akin to what you would expect from an RPG. Learn to build new ships by destroying your enemies. Explore the galaxy to find components, use your hard earned research points to unlock their potential, and then customize every aspect of your new fleet.
Finally, there is the universe in which all this strife and adventure takes place. SPAZ features a persistent randomly generated Galaxy populated with story elements, factions, enemies, missions, items, to provide you with a unique experience each time you play. While you are struggling to survive, uncover the secret of an ever expanding Zombie infestation that spreads by establishing its own real time multi-tiered ecosystem.
Key features:
33 ships to research, build, outfit and pilot.

70 unique components to discover and customize your fleet's performance.

Totally physics based combat system.

Fight Zombie infestations, battling a full zombie ecosystem comprising four stages of un-life.

Explore a persistent randomly generated galaxy containing hundreds of star systems.

Freedom to explore the galaxy and take on challenges at your own pace.

Aid, flee, or exploit the warring factions in each star system.

The unique event system lets the player change the balance of power in any star system

Carefully spend your hard earned research points on hundreds of upgrades across 15 categories.

Requisiti di sistema (PC)
OS: Windows 7/XP/Vista
Processor: 2.5 GHz Processor
Memory: 1 GB Available System Memory
Hard Disk Space: 250 MB Available HD Space
Video Card: 256MB 3D DirectX 9 Compatible video card
DirectX®: 9.0
Additional: OpenGL: 3.0
Requisiti di sistema (MAC)
OS: Mac OS X 10.6.8 or later
Processor: Intel Core Duo Processor (1.8GHz or better)
Memory: 1 GB RAM
Hard Disk Space: 500 MB Free Space
Recensioni utili dai clienti
Premi