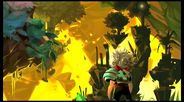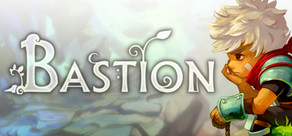 Paljasta Calamityn, epätodellisen katastrofin joka repi maailman palasiksi, salaisuudet.
Julkaisupäivä: 16. elo, 2011
Katso HD-video
Osta Bastion
VIIKONLOPPUVÄHENNYS! Tarjousta jäljellä:
Osta Bastion: Original Soundtrack
VIIKONLOPPUVÄHENNYS! Tarjousta jäljellä:
6. toukokuu
Hey! If you enjoyed Bastion you might be interested in our next game, Transistor, which now has its very own Steam page.

Every member of the team that created Bastion stuck together to make this next game. We hope you enjoy it at least as much!
17 kommenttia
Lue lisää
Arvostelut
"This game is amazing and you owe it to yourself to download it."
9.0/10 – http://pc.ign.com/articles/118/1189676p1.html

"The soundtrack is phenomenal, the world is breathtaking, and the narration is a brilliant new idea for gaming."
92/100 – PC Gamer

"The entire game drips with passionate artistry from the gorgeous watercolor aesthetics to the stirring soundtrack."
9/10 – Wired
Dota 2 Announcer


Buy it on the Dota 2 Store!
Tietoja pelistä
Bastion
on roolipelikokemus, joka mullistaa pelien tarinankerronnan. Pelitapahtumia seuraava kertoja reagoi jokaiseen tekoosi. Koettavanasi on yli 40 käsinmaalattua ympäristöä, joiden salat selviävät tutkiessasi Onnettomuutta, surrealistista katastrofia, joka pirstoi maailman. Käytä valtavaa määrää muokattavia aseita ja taistele villejä petoja vastaan, jotka ovat sopeutuneet tähän uuteen ympäristöön. Pääjuonen läpäistyäsi käyttöösi avautuu Plus-moodi, jonka avulla matkasi voi jatkua!
Lyhyesti:
Uskomaton käsinmaalattu kuvitus 1080p-resoluutiossa

Kriitikoiden ylistämä musiikki

Tarinankerrontaa tehostava reagoiva kertoja

Toiminnantäyteinen taistelumekaniikka palkitsee taidokkaan pelaamisen

PC:lle optimoidut kontrollit sekä peliohjaintuki

Käytettävissä yli 10 uniikkia muokattavaa asetta

Löydätkö kaikki kuusi voimakasta Linnaketta?

'New Game Plus' -moodi avautuu pääjuonen läpäisyn jälkeen
Ilmainen päivitys: Vieraan uni
Sukella syvemmälle Bastionin maailmaan tämän ilmaisen päivityksen avulla, joka sisältää uusia haasteita sekä uusia tapoja pelata. Sisältää muun muassa:
Vieraan uni: uusi täysin selostettu Kuka tietää missä -jakso, joka on suurempi ja haastavampi kuin muut.

Pistejahti-moodi: uusi tapa kokea pelin tarina! Aloitat pelin tasolla yksi kaikki Henget ja Idolit avattuina. Taistelutehokkuutesi arvostellaan tehokkuuden mukaan ja kaikki osiot ovat pelattavissa uudelleen.

Ei hätää-moodi: niille, jotka haluavat kokea Bastionin tarinan. Moodi tarjoaa loputtomat mahdollisuudet jatkaa tarinaa jos sinut kukistetaan.
Lisäksi uudet Steam-saavutukset sekä pistetilastot! Saadaksesi pääsyn uuteen Vieraan uni -jaksoon sekä Pistejahti-moodiin on sinun oltava läpäisty peli ainakin kerran. Vieraan uni -jakso on tämän jälkeen saatavilla New Game Plus- tai Pistejahti-moodin alkuvaiheessa.
Järjestelmävaatimukset (PC)
Käyttöjärjestelmä: Windows XP, Vista, 7

Prosessori: 1.7 GHz:n tuplaytiminen tai parempi

Muisti: 2 Gt

Kiintolevy: 1.0 Gt

Näytönohjain: 512 Mt DirectX 9.0c -yhteensopiva näytönohjain (Shader Model 2)

DirectX®: 9.0c

Ääni: DirectX 9.0c -yhteensopiva
Järjestelmävaatimukset (MAC)
OS: OS X version Leopard 10.5.8, Snow Leopard 10.6.3, or later.

Processor: 1.7 GHz Dual Core or Greater

Memory: 2 GB RAM

Hard Disk Space: 1.5 GB Free Space

Video Card: 256 MB OpenGL 2.0 compatible graphics card
Järjestelmävaatimukset (Linux)
Processor: 1.7 GHz Dual Core or Greater

Memory: 2 GB RAM

Video Card: 512 MB VRAM
Bastion is © Supergiant Games 2011. All code, art, music, narration, game design is copyright Supergiant Games. WB GAMES LOGO, WB SHIELD: ™ & © Warner Bros. Entertainment Inc.
Hyödylliset arvostelut
Palkinnot
Winner of more than 20 awards, including the Game Critics Award for "Best Downloadable Game of E3", Paste Magazine's "Best Videogame of the Year", Spike TV's "Best Downloadable Game" and "Best Original Score", and the Inside Gaming Awards for "Best Downloadable Game" and "Best Indie Game".