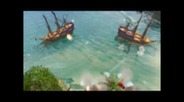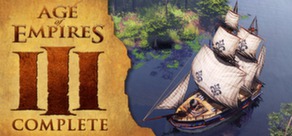 Studio Microsoft przedstawia trzy legendarne gry z serii Age of Empires III po raz pierwszy razem w jednym monumentalnym zestawie.
Data wydania: 15 Wrz 2009
Obejrzyj film HD
Kup Age of Empires III: Complete Collection
Pakiety zawierające tę grę
Kup Age of Empires Legacy Bundle
Zestaw 3 produktów: Age of Empires® III: Complete Collection, Age of Empires II HD, Age of Empires II HD: The Forgotten
23 Lipiec 2014
We're streaming Age of Empires III: The Asian Dynasties multiplayer live now on our Twitch channel! Tune in to www.twitch.tv/ageofempires.
Komentarzy: 4
Więcej
2 Kwiecień 2014
Hi AoE fans!

You can see the Age of Mythology Extended Edition trailer here: http://www.gamespot.com/videos/age-of-mythology-extended-edition-trailer/2300-6418101/

For more information about AoM: EE, be sure to visit the official webpage at http://www.ageofempires.com/aom.aspx

Enjoy! ːwololoː
Komentarzy: 22
Więcej
Informacje o grze
Immerse yourself in the award-winning strategy experience. Microsoft Studios brings you three epic Age of Empires III games in one monumental collection for the first time. Command mighty European powers looking to explore new lands in the New World; or jump eastward to Asia and determine the outcome of its struggles for power.
Wymagania systemowe
System operacyjny: Windows XP

Procesor: Intel Core 2 Duo 2.2 GHz lub AMD Athlon 64 X2 2.0 GHz

Pamięć: 2 GB RAM-u

Grafika: karta graficzna z 64 MB pamięci VRAM (NVIDIA GeForce 6800 lub ATI Radeon X1300)

DirectX®: 9.0c

Dysk twardy: 12 GB wolnego miejsca na dysku twardym
Pomocne recenzje klientów