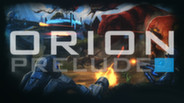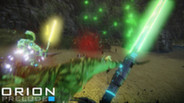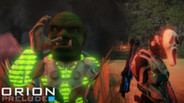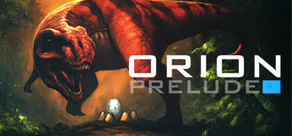 Work together to survive the devastating Dinosaur horde in huge, endless environments.
Release Date: May 4, 2012
Watch all 8 trailers
Buy ORION: Prelude 4-Pack
August 27th, 2014
We are giving out 1,000 *free* copies of ORION: Prelude on Reddit to celebrate the Master Race of gaming hardware. Spread the word!

http://youtu.be/BEBr85nqhiY

Visit:
http://www.reddit.com/r/pcmasterrace/comments/2er96k/orion_prelude_now_on_steam_1000_keys_inside/

109 comments
Read more
August 27th, 2014
Patch 1.1 for ORION: Prelude is now available. The official game servers have been updated and are waiting for your arrival - happy hunting!

ORION: Prelude \ Version 1.1 | Changelog
- - - - - - - - - - - - -

Adjusted: CinemaMode - Removed remaining HUD Markers.

Adjusted: Improved client-side power jump screen animation.

Adjusted: Improved client-side jetpack-start screen animation.

Adjusted: Improved buying @ shops experience (required multiple clicks).

Adjusted: Reduced fall damage from Power Jump.

Adjusted: Power Jumps to not make 1P Weapons play 'equip' animation.

Adjusted: Slightly reduced chances of rain/snow storms.

Adjusted: Slightly reduced XP gains.

Adjusted: Sentries now destroyed on Owner death/leaving the game.

Added: FOV Slider to Video Options.

Added: 'USE' button in Gamepad Control menu (binding-related).

Added: Gamepad functionality for Spectator controls (switch players).

Added: Game stats to new Spectator camera.

Added: Weapon names to Dropped Weapons.

Added: Collision of Bots toward other Bots.

Added: HUD Indicators for when inside of Vehicles.

Fixed: 3P Melee animations not playing as Client on Dedi Servers.

Fixed: Augments to not carry across map load.

Fixed: Map load camera angles.

Fixed: Game coming out of sync (fast animations).

Fixed: Laser Rifle kill dissolve shader not displaying on New Characters.

Fixed: FNC-30 Weapon Origins.

Fixed: Capes in Vehicles.

Fixed: Weapon holding in bot hands (3p - left arm doesn't grip).

Fixed: Dropping weapons on own server drops nothing.

Fixed: A.I Ptera grab animation (currently hovers in motion).

Fixed: Particles over transparent surfaces (muzzles over water).

Fixed: Flag attachments for new Characters.

Fixed: Spectator mode only working towards Bots.

Fixed: Mech was allowed to be over-healed.

Fixed: Mech not being healed by Utility Gun when no one was inside.

Fixed: Added a delay between Quick-Swing on the Cryo Knife.

Fixed: Lag bug caused by killing a Dinosaur.

Fixed: Lobby/Server Browser could be visible on top of each other.

Fixed: Arms on Dinosaur Eggs mesh.

Fixed: Bots not aiming up/down on Clients.

Fixed: Covan/Depth/Eden Achievements.

Fixed: Teleport bug on Conquest when a Generator is down.

Fixed: !votemap command issues on PvP maps.

Fixed: Bug where mesh would appear black in Loadout/Store pages.

Fixed: Bug where Weapon Upgrades were carried across map loads.

Fixed: Player icons not displaying in proper places on Servers.
13 comments
Read more
Just Updated

Now offering full Xbox 360 gamepad support!
Early Beta Access

The ORION: Prelude Developer SDK Beta is launching in September 2014.




If you're a Mapper and would like to participate in private testing please go here:
http://trek-industries.com/sdk
About the Game
'
ORION: Prelude
' is an indie Sci-Fi shooter (FPS/TPS) that seamlessly blends together incredible visuals and addictive combat. It puts you and your friends together into intense, cinematic battles using some of the most incredible weaponry and amazing vehicles in which you must work or compete against one another to accomplish mission objectives, explore giant worlds and survive the devastating Dinosaur Horde.
In addition to the return of the adventurous, survival-based cooperative gameplay and retro-inspired Arena Combat, 'ORION: Prelude' features massive, Open World Cooperative and PvPvE.

Supporting up to a variety of game modes, including:
Survival (Objective)

Slaughter (Duration)

Rampage (Playable Dinosaurs)

Prehistoric (Custom Variable)
Supporting up to 10 players and offering 2 game modes:
Conquest (Cooperative - 5 Players)

Vital (PvPvE - 10 Players)
Supporting up to 10 players and offering 3 cooperative game modes:
Free-For-All (Deathmatch)

Elimination (Stealth)

King of the Hill (Territory)

Gun Game (Ladder Climb)

Instagib (Twitch Reflex)

Vital (Open World)

Supporting up to 10 players and offering 3 unique game modes:
1v1 Duel (4 Playlers - Tournament)

FFA Duel (4 Players - FFA)

Team Duel (5v5)
Key Features:
Open World Gameplay

Cooperative & Competitive Gameplay

Dueling & Melee Combat Gameplay

1st Person / 3rd Person Hybrid Gameplay

15 Game Modes

50+ Weapons & Gear

30 Augmentations (Mutators)

20+ Multiplayer Maps

7 Vehicles

Full Weather System

Persistence & Player Progression (150 Levels)

Class-Based Gameplay & Player Loadouts

Statistics & Leaderboards

Lobbies, Matchmaking & Server Browser

Player Store (Cosmetics)

Rewards & Unlockables

Real-time Dynamic Day/Night Cycles

10 Dinosaurs (All Playable)

250+ Steam Achievements

12 Steam Trading Cards

Steam Big Picture Mode Support

Bots & Offline Play

Tutorial System

SDK & Steam Workshop (Custom Maps)
System Requirements
Minimum:


OS:Windows Vista SP2 32-Bit

Processor:AMD Athlon X2 2.8GHZ / Intel Core 2 Duo 2.4 GHZ

Memory:3 GB RAM

Graphics:256 MB Graphics Memory (SM3)

DirectX®:9.0c

Hard Drive:8 GB HD space

Sound:DirectX 9 Compatible
Recommended:


OS:Win 7 / Win 8 (64-Bit)

Processor:AMD 4-Core / Intel 4-Core

Memory:4 GB RAM

Graphics:512 MB Graphics Memory (SM 3)

DirectX®:9.0c

Hard Drive:8 GB HD space

Sound:DirectX 9 Compatible

Other Requirements:Broadband Internet connection
Helpful customer reviews
Title:
ORION: Prelude
Genre:
Action
,
Adventure
,
Indie
Developer:
Spiral Game Studios
Publisher:
TREK Industries
Release Date:
May 4, 2012
Languages:
| | Interface | Full audio | Subtitles |
| --- | --- | --- | --- |
| English | | | |