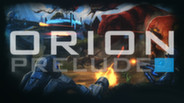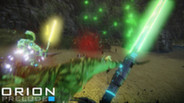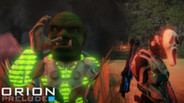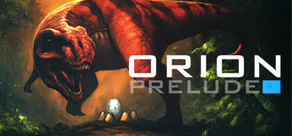 Work together to survive the devastating Dinosaur horde in huge, endless environments.
Release Date: May 4, 2012
Watch all 8 trailers
Buy ORION: Dino Horde 4-Pack
August 25th, 2014
We are so excited to announce that ORION: Prelude is officially released and finally available for less than $1 USD on Steam!

https://www.youtube.com/watch?v=BEBr85nqhiY




TREK FOUNDERS / NEW BUYERS
This is a free upgrade for all existing owners of ORION: Dino Horde (AKA purchases made before or on August 24, 2014).
For any new buyers (August 25 and onward) it will only cost you $1.00! More details about the Founder Program here.
GAME FEATURES:
Open World Gameplay

Cooperative & Competitive Gameplay

Dueling & Melee Combat Gameplay

1st Person / 3rd Person Hybrid Gameplay

15 Game Modes

50+ Weapons & Gear

30 Augmentations (Mutators)

20+ Multiplayer Maps

7 Vehicles

Full Weather System

Persistence & Player Progression (150 Levels)

Class-Based Gameplay & Player Loadouts

Statistics & Leaderboards

Lobbies, Matchmaking & Server Browser

Player Store (Cosmetics)

Rewards & Unlockables

Real-time Dynamic Day/Night Cycles

10 Dinosaurs (All Playable)

250+ Steam Achievements

12 Steam Trading Cards

Steam Big Picture Mode Support

Bots & Offline Play

Tutorial System

SDK & Steam Workshop (Custom Maps)
http://media.tumblr.com/691e67e364be2b92af1f61162d60d388/tumblr_inline_natx6929ih1qc7c6z.jpg
PLAY WITH DEVS & WIN FREE PRIZES!
We will be resurrecting our Play With Developers event. Details below:
Day: Sunday

Time: 1:00pm US Central

Modes: VITAL, CTF, King of the Hill, Elimination, Team Duel.
To apply, send an email to ( playwithdevs@trek-industries.com ) with a team of five to enlist. First match starts THIS Sunday (August 31, 2014).
SDK / STEAM WORKSHOP BETA | APPLY NOW!
We are currently accepting private testers for the upcoming SDK / Steam Workshop release.
To enlist please go here:
http://trek-industries.com/sdk
CONNECT WITH US!
Learn more about TREK Industries
Visit the Steam Community
Buy ORION: Dino Horde for $1
Like us on Facebook
Follow us on Twitter
Track us on Instagram
Read Steam Reviews
46 comments
Read more
August 24th, 2014
Are you a Mapper (Level Designer) and interested in creating Maps for ORION: Prelude?





We are looking for a select few to help us test the tools before we launch them to the public.

[ TO APPLY ]
To send in an SDK Beta application simply submit the three following questions and any previous examples of maps you've made in the past.

1 - What maps have you already made?

2 - What engines have you mapped on?

3 - What type of maps interest you most? (Co-op, PvP-, Duel)
Send me an email to (
sdk@trek-industries.com
) to apply.
13 comments
Read more
Just Updated

Now offering full Xbox 360 gamepad support!
Early Beta Access

The ORION: Prelude Developer SDK Beta is launching in September 2014.




If you're a Mapper and would like to participate in private testing please go here:
http://trek-industries.com/sdk
About the Game
'
ORION: Prelude
' is an indie Sci-Fi shooter (FPS/TPS) that seamlessly blends together incredible visuals and addictive combat. It puts you and your friends together into intense, cinematic battles using some of the most incredible weaponry and amazing vehicles in which you must work or compete against one another to accomplish mission objectives, explore giant worlds and survive the devastating Dinosaur Horde.
In addition to the return of the adventurous, survival-based cooperative gameplay and retro-inspired Arena Combat, 'ORION: Prelude' features massive, Open World Cooperative and PvPvE.

Supporting up to a variety of game modes, including:
Survival (Objective)

Slaughter (Duration)

Rampage (Playable Dinosaurs)

Prehistoric (Custom Variable)
Supporting up to 10 players and offering 2 game modes:
Conquest (Cooperative - 5 Players)

Vital (PvPvE - 10 Players)
Supporting up to 10 players and offering 3 cooperative game modes:
Free-For-All (Deathmatch)

Elimination (Stealth)

King of the Hill (Territory)

Gun Game (Ladder Climb)

Instagib (Twitch Reflex)

Vital (Open World)

Supporting up to 10 players and offering 3 unique game modes:
1v1 Duel (4 Playlers - Tournament)

FFA Duel (4 Players - FFA)

Team Duel (5v5)
Key Features:
Open World Gameplay

Cooperative & Competitive Gameplay

Dueling & Melee Combat Gameplay

1st Person / 3rd Person Hybrid Gameplay

15 Game Modes

50+ Weapons & Gear

30 Augmentations (Mutators)

20+ Multiplayer Maps

7 Vehicles

Full Weather System

Persistence & Player Progression (150 Levels)

Class-Based Gameplay & Player Loadouts

Statistics & Leaderboards

Lobbies, Matchmaking & Server Browser

Player Store (Cosmetics)

Rewards & Unlockables

Real-time Dynamic Day/Night Cycles

10 Dinosaurs (All Playable)

250+ Steam Achievements

12 Steam Trading Cards

Steam Big Picture Mode Support

Bots & Offline Play

Tutorial System

SDK & Steam Workshop (Custom Maps)
System Requirements
Minimum:


OS:Windows Vista SP2 32-Bit

Processor:AMD Athlon X2 2.8GHZ / Intel Core 2 Duo 2.4 GHZ

Memory:3 GB RAM

Graphics:256 MB Graphics Memory (SM3)

DirectX®:9.0c

Hard Drive:8 GB HD space

Sound:DirectX 9 Compatible
Recommended:


OS:Win 7 / Win 8 (64-Bit)

Processor:AMD 4-Core / Intel 4-Core

Memory:4 GB RAM

Graphics:512 MB Graphics Memory (SM 3)

DirectX®:9.0c

Hard Drive:8 GB HD space

Sound:DirectX 9 Compatible

Other Requirements:Broadband Internet connection
Helpful customer reviews
Title:
ORION: Prelude
Genre:
Action
,
Adventure
,
Indie
Developer:
Spiral Game Studios
Publisher:
TREK Industries
Release Date:
May 4, 2012
Languages:
| | Interface | Full audio | Subtitles |
| --- | --- | --- | --- |
| English | | | |