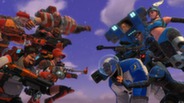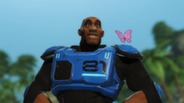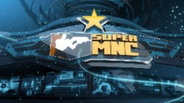 Now with Steam Trading & unlockable TF2 hats and uniforms. Super MNC is a free to play, strategic, multiplayer shooter and the most popular lethal sport of the future!
Julkaisupäivä: 19 Huhtikuu 2012
Katso kaikki 3 traileria
This item does not have support for your local language. Please review the supported language list before purchasing
Tämän pelin lisäsisältö
Arvostelut
"This game deserves to be played this instant by any fan of MOBAs, shooters, or merry-and-manic mayhem."
86/100 – PCGamer
Steam Trading
Tämä peli osallistuu Steam-vaihtamiseen
Esineet tästä pelistä ovat vaihdettavissa ja ne ovat nähtävissä tavaraluettelossasi Steam-yhteisösivullasi.
Steamin ainutlaatuinen tarjous
Receive a free Super MNC-themed Team Fortress 2 hat or a TF2-themed Uniform in SMNC by unlocking an achievement in Super MNC!
To receive the Gunslinger Hat for Sniper in TF2, players must reach Agent Level 5 in SMNC.
To receive the Engineer Uniform for Combatgirl in SMNC, players must reach Agent Level 10 in SMNC.
To receive the Soldier Uniform and Rocket Launcher skin for Megabeth in SMNC, players must reach Agent Level 15 in SMNC.
To receive the Assassin Helmet for Pyro in TF2, players must reach Agent Level 20 in SMNC.
(Players who've already reached these levels will also receive the hats and uniforms.)
Tietoja pelistä
Mikä on Super Monday Night Combat?
Super Monday Night Combat on ilmaiseksi pelattava, strateginen moninpeliammuskelu
Järjestelmävaatimukset
OS: XP(SP3)/Vista/Windows 7
Processor: 2 GHz Processor
Memory: 1 GB RAM
Graphics: DirectX 9.0c/Shader3.0 compatible, VRAM 512 MB (NVIDIA GeForce 7800 series or ATI Radeon X1900)
DirectX®: 9.0c
Hard Drive: 2 GB of free space
Sound: DirectX 9.0c compatible sound cards
© 2011 Uber Entertainment, Inc. All rights reserved. Uber Entertainment and the Uber logo are registered trademarks of Uber Entertainment, Inc in the U.S. and/or other countries.
Hyödylliset arvostelut