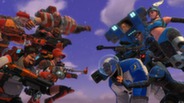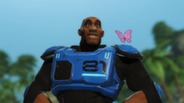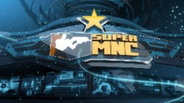 Now with Steam Trading & unlockable TF2 hats and uniforms. Super MNC is a free to play, strategic, multiplayer shooter and the most popular lethal sport of the future!
Release Date: Apr 19, 2012
Watch all 3 trailers
Downloadable Content For This Game
Reviews
"This game deserves to be played this instant by any fan of MOBAs, shooters, or merry-and-manic mayhem."
86/100 – PCGamer
Steam Trading
This game participates in Steam Trading
Items from this game are tradable and can be viewed in your inventory on your Steam Community Profile.
Steam Exclusive Offer
Receive a free Super MNC-themed Team Fortress 2 hat or a TF2-themed Uniform in SMNC by unlocking an achievement in Super MNC!
To receive the Gunslinger Hat for Sniper in TF2, players must reach Agent Level 5 in SMNC.
To receive the Engineer Uniform for Combatgirl in SMNC, players must reach Agent Level 10 in SMNC.
To receive the Soldier Uniform and Rocket Launcher skin for Megabeth in SMNC, players must reach Agent Level 15 in SMNC.
To receive the Assassin Helmet for Pyro in TF2, players must reach Agent Level 20 in SMNC.
(Players who've already reached these levels will also receive the hats and uniforms.)
About the Game
What is Super Monday Night Combat?
Super Monday Night Combat is a free to play, strategic, multiplayer shooter… and the most popular lethal sport of the future! It blends intense tactical combat, a deep metagame, an ever-expanding roster of Pros, and an ever-growing amount of customizations. Why fight in bombed out cities or desert wastelands when you can have every kill streak judged by hilarious sportscasters and cheering, or jeering, fans?
Key Features:
Free to Play
Super Monday Night Combat is free to play! Players can choose from a rotation of free Pros to play every week and have a chance of winning most customizations and gameplay improvements from our Post-Game Prize system!
Unique Strategic Multiplayer Shooter
Super Monday Night Combat blends intense combat of a shooter with lots of strategic depth. Shooting enemy players and bots, upgrading skills, and using money wisely is key to being victorious.
The Rules Have Changed
Super Monday Night Combat has increased the roster of Pros, the strategic depth of gameplay, the customization options and the amount of metagame over it's predecessor. On top of all that, the rules will continue to change! Super Monday Night Combat is updated every week with balance and gameplay improvements, and new content such as Pros, uniforms, taunts, weapons, game modes, and maps!
Playable Pros
Each Pro comes with its own unique look, voice, taunts, uniforms, weapons and skills. Pros are broken up into Commandos, Defenders, Enforcers, Strikers, and Sharpshooters so you'll have multiple to choose from to fit your play style!
Customization
Customize how you look with mix and match Pro uniform pieces, different weapons, and taunts. Then customize how you play by unlocking and setting up endorsements and products.
Deep Metagame
Playing Super Monday Night Combat allows you, the agent, to level up and earn combat credits to unlock lots of gameplay improvements. Players can also collect various customizations to perfect your look!
Steam Trading (Coming Soon)
Share and trade items for Super Monday Night Combat and across games using Steam Trading!
System Requirements
OS: XP(SP3)/Vista/Windows 7
Processor: 2 GHz Processor
Memory: 1 GB RAM
Graphics: DirectX 9.0c/Shader3.0 compatible, VRAM 512 MB (NVIDIA GeForce 7800 series or ATI Radeon X1900)
DirectX®: 9.0c
Hard Drive: 2 GB of free space
Sound: DirectX 9.0c compatible sound cards
© 2011 Uber Entertainment, Inc. All rights reserved. Uber Entertainment and the Uber logo are registered trademarks of Uber Entertainment, Inc in the U.S. and/or other countries.
Helpful customer reviews