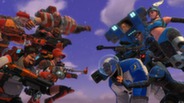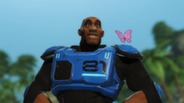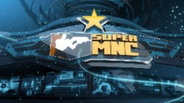 Nu med Steam-Byte & upplåsbara TF2 hattar och uniformer. Super MNC är en gratis att spela, stategisk, multiplayer skjutare och den mest populära dödliga sporten i framtiden!
Utgivningsdatum: 19 apr, 2012
Titta på alla 3 trailers
Nedladdningsbart innehåll för detta spelet
Recensioner
"This game deserves to be played this instant by any fan of MOBAs, shooters, or merry-and-manic mayhem."
86/100 – PCGamer
Steam Trading
Det här spelet deltar i Steam-Byte
Föremål från det här spelet är bytbara och kan visas i ditt Förråd på din sida i Steams gemenskap.
Erbjudande exklusivt för Steam
Få en gratis Super MNC-temad Team Fortress 2-hatt eller en TF2-temad uniform i SMNC genom att uppnå prestationer i Super MNC!
För att få hatten Revolvermannen åt Krypskytten i TF2 måste spelaren uppnå Agent Nivå 5 i SMNC.
För att få ingenjörsuniformen åt Combatgirl i SMNC måste spelaren uppnå Agent Nivå 10 i SMNC.
För att få soldatuniformen och raketgevärsskalet åt Megabeth i SMNC måste spelaren uppnå Agent Nivå 15 i SMNC.
För att få lönnmördarhjälmen åt Pyro i TF2 måste spelaren uppnå Agent Nivå 20 i SMNC.
(Spelare som redan uppnått dessa nivåer kommer även få dessa hattar och uniformer.)
Om spelet
Vad är Super Monday Night Combat?
Super Monday Night Combat är en flerspelarskjutare som är strategiskt och gratis att spela
Systemkrav
Operativsystem: XP(SP3)/Vista/Windows 7
Processor: 2 GHz Processor
Minne: 1 GB RAM
Grafik: DirectX 9.0c/Shader3.0-kompatibelt, VRAM 512 MB (NVIDIA GeForce 7800-serien eller ATI Radeon X1900)
DirectX®: 9.0c
Hårddisk: 2 GB ledigt utrymme
Ljud: DirectX 9.0c-kompatibelt ljudkort
© 2011 Uber Entertainment, Inc. All rights reserved. Uber Entertainment and the Uber logo are registered trademarks of Uber Entertainment, Inc in the U.S. and/or other countries.
Hjälpsamma kundrecensioner