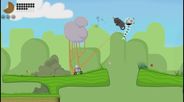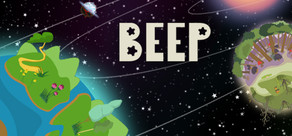 BEEP is a 2D side-scrolling platformer with physics-based gameplay.
Release Date: 6 May 2011
Watch HD video
About the Game
BEEP is a 2D side-scrolling platformer with physics-based gameplay. You control a small robot equipped with an anti-gravity device, a jet-pack and a gun. Drive, jump, fly, swim and shoot your way through 24 levels scattered across 6 unique environments.
Use BEEP's anti-gravity device to directly manipulate the physics-based environments. The anti-gravity device is both a tool and a weapon. Use it to smash enemy robots, build towers and solve puzzles.
BEEP has traveled for thousands of years through deep space to explore the Galaxy. Traverse a foreign star system with the BEEP-ship and send robots to the surface of the planets.
Key features:
Control a small robot with ultimate precision.
Directly manipulate a physics-based environment.
Encounter a variety of procedurally animated AI opponents.
Explore 6 different environments; each with unique challenges.
Enjoy stylish vector-graphics presented in 16:9 widescreen.
Features rich sound effects and 14 custom music tracks.
Runs at 60hz with a custom OpenGL-based engine.
Uses a spacial sound system with environmental filters.
System Requirements
OS: Windows XP/Vista/7
Processor: 2.2Ghz Dual-Core
Memory: 2 GB
Hard Disk Space: 512 MB
Video Card: OpenGL 2.0 drivers on GeForce 8 series or Radeon HD series (or better)
Helpful customer reviews
1 of 4 people (25%) found this review helpful
742 products in account
93 reviews
1.6 hrs on record
In BEEP, you are in control of a small robot that is used to explore other planets. It is mostly a platform game with slight action and puzzle elements. There are basically zero options provided to the player as far as graphics are concerned, and the game engine seems to have serious problems with frame drops and performance on a modern computer. The general presentation is basic, upbeat, lighthearted, adorable, and for all ages. The world map is amusing, as you are allowed to navigate through space with your ship and bounce off asteroids or space debris. Each planet looks different than the other, and the levels appear to have been designed well. The controls are implemented adequately, and are quite responsive even in the more dire platforming situations mixed in with some shooting or the tricky anti-gravity device. The robot's wheels also have an excellent grasp on terrain, which makes for some forgiving moments if you are new to the genre. All of this is not without some major problems related to performance. The game runs terribly on a modern computer that more than meets the minimum requirements. The massive frame drops, excessive lag, terrible slowdowns, and extreme choppiness make it unplayable. Others have experienced similar problems, and proof of it can be found in the game's Steam forum. This is actually quite unfortunate, as BEEP seems to be a good game at its core, if it weren't for the performance issues that break it. Perhaps with some developer tweaks and patches, BEEP will live up to its full potential and be enjoyable.

BEEP is mediocre.
0 of 2 people (0%) found this review helpful
66 products in account
4 reviews
0.5 hrs on record
This game can get boring easily. The level select is very confusing, and even if you liked it it would take a while to get use to. I don't recommend this game, not because I don't like it, but because of the game mechanics, how it works, etc. Its kinda fun at the first level or two I guess, but the game is pretty repetitive.
Title:
BEEP
Genre:
Action
,
Indie
Developer:
Big Fat Alien
Publisher:
Big Fat Alien
Release Date:
6 May 2011
Languages:
| | Interface | Full audio | Subtitles |
| --- | --- | --- | --- |
| English | | | |