Pelaa A.V.A - Alliance of Valiant Arms
Tämän pelin lisäsisältö
13 kesäkuu(ta) 2014
Dear Community,

Have a look at this awesome montage of the Golden Caiman Collection made by andi2ninja.




Subscribe to his Youtube channel for more outstanding content:

The Golden Caiman Collection:
- G36 Caiman (Rifleman)
- M29 Caiman (Secondary)
- Kukri Caiman (Melee)
- M67 Caiman (Grenade Skin)
- MK3A2 Caiman (Grenade Skin)

Music:
Name of Song: Accelerant
Name of Artist: Blue Stahli
www.fixtstore.com/bluestahli
https://www.youtube.com/user/bluestahli

- Your A.V.A Team
1 kommenttia
Lue lisää
4 kesäkuu(ta) 2014


New Content of this patch:


Squished Bugs:
The "Blue Skull" and "Pumpkin Grenade" are now back in the inventory of all players who lost the items after our last content update. Furthermore, the Blue Skull can now be purchased again in the ticket shop.
*Season 5 of the Mega Capsule: Caiman
20 weapons can be won by spinning this season of the Mega Capsule:
G36 Caiman (jackpot)
,
OA-93 Sharks
,
KAC PDW Guardian
,
MK.18 DBDU
,
AKS-74U Eros
,
Striker-12 Pearl
,
K1A1 Venus
,
M16A4 D.Shadow
,
MP7A1 Altan
,
FAMAS MK3 Freyja
,
SCAR-L Gladiator
,
M14 DMR Hellfire
,
M4A1 Bald Eagle
,
Rx4 Aphrodite
,
M40A5 Pothos
,
HK417 Cookie
,
PGM.338 Argos
,
AWM Bastet
,
Mosin Nagant Or Nouveau
and
Dotanuki.
On top of this, the following items can also be won:
The "
M29 Caiman
" will be sent as a collection bonus for acquiring all the weapons in the Mega Capsule. If you spin the Mega Capsule twice you will get the "
Kukri Caiman
".
Additionally if you spin 3 times you will get the "
M67 Caiman Grenade
".
And last but not least if you spin 12 times you will get the "
MK3A2 Caiman Grenade
".
Furthermore and if you win the G36 Caiman, you will be able to switch it to the
G36KA1 Gustav
for 5 Red Tickets.
** New mode: AVA Sports and new Sport Boxes
In the new mode AVA Sports you can participate in lot of activities with your friends! Jump around moving obstacles, take part in a shooting competition, defuse bombs faster than your opponents and a lot more!
This mode can be played with a maximum of 16 players per room. The Sport Channel is opened 5 hours per day (from 6PM to 11PM CET for EU and from 7PM to 12AM EDT for NA).
A new currency will be available with this mode: The Sports Coins.
This money will be delivered after you complete a game in the sport channel. You will earn more coins depending on the final score of the game and the number of participants.
With these coins, you will be able to purchase the new following boxes in the Capsule shop: Sports Mosin or Sports Beretta
The Sports Beretta box cost 25 Sports Coins.
It can contain the following jackpots:
Sports Berreta
(30d) or
Sports Bat
(Perm).
It can also contains these items:
Sports Beretta
(1/3/7/15d),
M67 Sports
(1d) or 100 in-game euros
The Sports Mosin box cost 35 Sports Coins.
It can contain the following jackpots:
Sports Mosin
(30d) or
Sports Bat
(perm).
It can also contains these items:
Sports Mosin
(1/3/7/15d),
M67 Sports
(1d) or 100 in-game euros.
0 kommenttia
Lue lisää
Erikoistarjous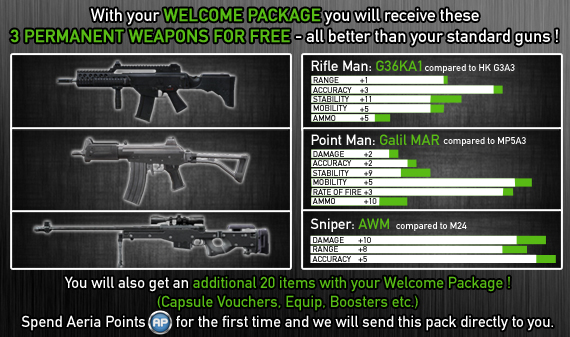 Welcome Package: 3 PERMANENT WEAPONS FOR FREE - all better than your standard ones!
How to get your FREE WELCOME PACKAGE
Very simple:
1. Purchase AP (Aeria Points) for the FIRST TIME

2. Spend at least 1 Aeria Point (AP) on A.V.A

3. Get the Welcome Package for FREE! The items of the package will be delivered directly to your in-game inventory within 24 hours

4. Have FUN!!!
Rifle Man:
G36KA1 ->
Video

Point Man:
Galil MAR ->
Video
Sniper:
AWM ->
Video

The Welcome Package includes 20 items (Permanent Weapons, Equip, Boosters, etc..) and an additional 2 CAPSULES VOUCHERS. Find the full list HERE!
Why would you want to miss that?
Tietoja pelistä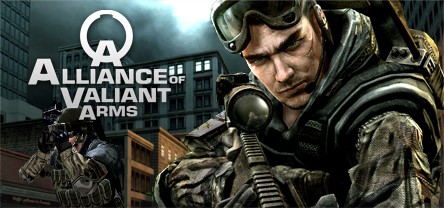 AVA is a free-to-play MMOFPS that plunges you into the middle of a world at war. Side with the European Union (E.U) or the Neo-Russian Federation (NRF) and take up arms across vicious urban battlegrounds. Test your skills against your friends and see if you have what it takes to come out on top!

Key features:
Class System: Select from the 3 classes (Point Man, Rifle Man, Sniper) to best support your teammates.

Rank System: Rank up from Trainee to Private and so on. As your character climbs the ladder in the ranking system, more weapons and items will be obtainable through the in-game shop.

Squad Commander: The highest ranked player on each team is equipped with high tech binoculars to scope out enemy locations and report back to your teammates.

Weapon Customization: Add custom parts or modify your weapons to drastically change its performance.

In-Game Challenges and Awards: Daily challenges/missions which consists of completing objectives to receive rewards such as in game money. There is also an award system consisting of campaign ribbons, badges, and medals. Different awards give different benefit such as game money, unlocking skills, and supply points.

Co-op Gameplay: Team up with friends and take on the challenging co-op mode. Co-op supports a team of 4 or 5 players depending on the mission.




Järjestelmävaatimukset
Käyttöjärjestelmä: Windows XP, Vista, Windows 7

Prosessori: Pentium 4 2.4GHz

Muisti: 1Gt

Kiintolevy: 6Gt

Näytönohjain: NVidia GeForce 6600 tai parempi

DirectX®: 9.0C

Lisätietoja: Vaatii Internet-yhteyden
©Aeria Inc. All rights Reserved. Copyright© Red Duck Inc. All rights Reserved. ©Neowiz Games. All rights Reserved.
Hyödylliset arvostelut
Nimi:
A.V.A - Alliance of Valiant Arms
Lajityyppi:
Toiminta
,
Ilmaispelit
Kehittäjä:
RED DUCK Inc.
Julkaisija:
Aeria Games
Julkaisupäivä:
14 Kesäkuu 2011
Kielet:
| | Käyttöliittymä | Puhe | Tekstitykset |
| --- | --- | --- | --- |
| englanti | | | |
| ranska | | | |
| saksa | | | |
| espanja | | | |