Spil A.V.A - Alliance of Valiant Arms
Indhold, der kan downloades til dette spil
16 April 2014


Dear players,

Below, you will be able to find the list of every Game Master for A.V.A, the language(s) they speak and a link to their account on Steam.

Don't hesitate to friend those accounts and ask anything if you have game-related issue:

Name: GMDeadly
Language: English

Name: GMHaruki
Language: English, Spanish

Name: GMMugen
Language: English

Name: GMNovo
Language: English, French

Name: GMScrat
Language: English, German

Best Regards,

- The A.V.A Team
7 kommentarer
Læs mere
10 April 2014


New Content of this patch:

New mode: InfectionZ*

New Map: [InfectionZ] Awaken

New Map: [Infection] Prison Break

New Capsule: FullMoon Box**

New interface for the in-game shop

New settings for the Practice Channel***

Possibility to deactivate the effects of Add items

Possibility to disable grenades in Annihilation Mode

New weapon in the in-game shop: MAGPUL PDR (Pointman)

New weapons in the ticket shop: Uzi Raven (Pointman), M4A1 BRONX (Rifleman), DTA SRS (Sniper)

New Beginner items: MP5K Novice (Pointman), FN F2000 Novice (Rifleman), Blaser R93 Novice (Sniper)***

New InfectionZ items in the Webmall (coming soon): Red Slasher (Melee Weapon), Red Skull (Pointman), M1897 Painkiller (Pointman)

New Gloves in the Webmall (coming soon): SG09: Rapid hands, SG09: Firm grip, SG09: Stable scope, SG09: C4 Master, SG09: Tank Master
Squished Bugs:
The game will no longer crash if you receive blue tickets from the roulette after a game in the Match Channel.
* New mode: InfectionZ Official Trailer
InfectionZ is our newest feature! In this mode, the host zombies can throw stun blisters to slow down human movement and recover health from infected individuals. In addition, the humans will accumulate rage points the more they lose teammate. When the rage gauge reaches the maximum, humans can transform into the Ripper by pressing "T", a mighty and powerful creature impossible to turn into an infected. All the existing Infection maps now have this setting. Furthermore, the new map Awaken mix the thrill of Airborne with the fun of Infection!
** New Capsule: FullMoon
The following items can be won with this new Capsule Box: M82A3 Barret (permanent - jackpot), Aks-74u Fullmoon (3d, 7d, 15d, 30d, perm), M14 Fullmoon (3d, 7d, 15d, 30d, perm), SVDM Fullmoon (3d, 7d, 15d, 30d, perm), M67 Fullmoon (3d, 7d, 15d, 30d, 90d).
The price for one capsule is 299AP.
*** New settings for the Practice Channel
Those new settings now apply in the Practice Channel:
The round time is 60 minutes (instead of 2:30 minutes).

There is only one round

Kill cam will be shown where a grenade explodes.
**** New Beginner items
Every new player creating a character in A.V.A after the deployment of this patch will receive:
Training Blaster R93
,
Training FN-F2000
, and
Training MP5K
.
5 kommentarer
Læs mere
Specialtilbud


Welcome Package: 3 PERMANENT WEAPONS FOR FREE - all better than your standard ones!
How to get your FREE WELCOME PACKAGE
Very simple:
1. Purchase AP (Aeria Points) for the FIRST TIME

2. Spend at least 1 Aeria Point (AP) on A.V.A

3. Get the Welcome Package for FREE! The items of the package will be delivered directly to your in-game inventory within 24 hours

4. Have FUN!!!
The Welcome Package contains:
- G36KA1 (Permanent)
- AWM (Permanent)
- Galil MAR (Permanent)
- Capsule vouchers x 2 (Expiration date: after 1 week)
- Exp Up 100% (7 days)
- Anastasia - Rifleman character (7 days)
- Lili - Pointman character (7 days)
- Shenah - Sniper character (7 days)
- Iyan Helmet (7 days)
- Iyan Armor (7 days)
- Iyan Camo (7 days)
- Iyan Boots (7 days)
- Iyan Gloves (7 days)
- Iyan Protect (7 days)
- Boa Kukri 2 (7 days)
- Python (7 days)
- Blue Smoke Grenade (Exp)
- Magazine Upgrade B (7 days)
- Magazine Upgrade A (7 days)
- Black Bear Grenade (7 days)
- Supply Point up +30% (Exp)
Why would you want to miss that?
Om spillet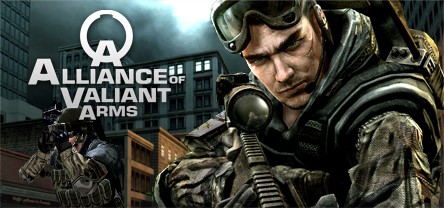 AVA is a free-to-play MMOFPS that plunges you into the middle of a world at war. Side with the European Union (E.U) or the Neo-Russian Federation (NRF) and take up arms across vicious urban battlegrounds. Test your skills against your friends and see if you have what it takes to come out on top!
Background of the game
November 2009
-- The Republic of the Commonwealth of Independent States, once scattered into pieces with the fall of the Soviet Union, comes together for reintegration under Russian president: 'Vladimir Mashkov', a conservative ultra-nationalist. On the anniversary of the National Founding Day for the Soviet Union, the newly created Neo Russia Federation (NRF) springs to life as a world power, occupying 1/6th of the earth's land surface with the world's 3rd largest population.
Concerned with the NRF's rapid expansion into Eastern Europe, the EU requests the immediate removal of NRF troops from Eastern Europe and an immediate stop to the intervention in Middle East countries. Mashkov ignores all communications and the extremely fast growth of the NRF casts dark clouds over the entire continent of Europe.
January 2011
-- As all political and economic approaches fail EU forces from Germany, France, England and Northern Europe attack NRF troops stationed in Poland and effectively begin the European War. NRF forces retaliate with great force causing substantial losses to EU troops and pushing EU out of Poland altogether. NRF forces cross into Germany in massive waves. After subsequent battles, the NRF occupy Germany entirely as well as parts of France.
January 2012
-- EU forces, supported by US troops, plan a major counterattack…
Key features:
Class System: Select from the 3 classes (Point Man, Rifle Man, Sniper) to best support your teammates.

Skill System: Unlocked by meeting certain requirements in-game, skills allow you to further customize each class.

Rank System: Rank up from Trainee to Private and so on. As your character climbs the ladder in the ranking system, more weapons and items will be obtainable through the in-game shop.

Squad Commander: The highest ranked player on each team is equipped with high tech binoculars to scope out enemy locations and report back to your teammates.

Weapon Customization: Add custom parts or modify your weapons to drastically change its performance.

In-Game Challenges and Awards: Daily challenges/missions which consists of completing objectives to receive rewards such as in game money. There is also an award system consisting of campaign ribbons, badges, and medals. Different awards give different benefit such as game money, unlocking skills, and supply points.

Co-op Gameplay: Team up with friends and take on the challenging co-op mode. Co-op supports a team of 4 or 5 players depending on the mission.

Systemkrav
OS: Windows XP, Vista, Windows 7

Processor: Pentium 4 2.4GHz

Memory: 1GB

Hard Disk Space: 6GB

Video Card: NVidia GeForce 6600 or better

DirectX®: 9.0C

Additional: Internet Connection required

©Aeria Inc. All rights Reserved. Copyright© Red Duck Inc. All rights Reserved. ©Neowiz Games. All rights Reserved.
Helpful customer reviews
Titel:
A.V.A - Alliance of Valiant Arms
Genre:
Action
,
Gratis at spille
Udvikler:
RED DUCK Inc.
Udgiver:
Aeria Games
Udgivelsesdato:
14 Jun 2011
Sprog:
| | Grænseflade | Fuld lyd | Undertekster |
| --- | --- | --- | --- |
| Engelsk | | | |
| Fransk | | | |
| Tysk | | | |
| Spansk | | | |