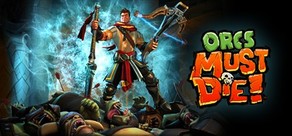 切碎牠們,燒死牠們,串燒牠們,還有轟飛牠們 - 不管您的做法是哪種,一定要在 Robot Entertainment 所開發的這款科幻動作戰略遊戲殺死這些獸人。 身為一位手中握有數十把致命武器、法術以及陷阱的戰鬥法師(War Mage),在狂暴的獸以及暴走的獸人圍攻下守住 24 座要塞,包括了食人怪,地獄蝙蝠,當然,還有一大群醜不拉嘰的獸人。在劇情戰役模式中與敵人戰鬥來解鎖不同的難度選擇,包含了噩夢模式! 您是否想在一個岩漿坑裡頭烤獸人,用天花板當成陷阱把牠們壓扁,或冰起來在一劍擊碎牠們?不管選擇甚麼樣武器或陷阱,您必定會成為一位獸人屠夫! 遊戲特色 守住 24 座要塞 – 蜿蜒的通道、高聳的高塔以及廣闊開放的會場都需要一位戰鬥法師來守住它們 6...
發售日: 2011年10月11日
觀看 HD 影片
評論
"Not since Lemmings has a game so seamlessly mixed engaging mechanics, humor, cuteness, and gleeful cruelty."
90/100 – PCGamer
"Orcs Must Die! embellishes your devious side, encouraging you to devise clever ways of fulfilling the command of the title."
9.0/10 – Editors' Choice - IGN
"I was pleasantly surprised by just how good Orcs Must Die! is, and I think you will be, too. Welcome to the new standard in ACTION TOWER…."
4.5/5.0 – gamespy
Steam 獨家優惠
Unlock 10 co-op classic levels in Orcs Must Die! 2 by purchasing the original Orcs Must Die! on Steam!
關於此遊戲
切碎牠們,燒死牠們,串燒牠們,還有轟飛牠們 - 不管您的做法是哪種,一定要在 Robot Entertainment 所開發的這款科幻動作戰略遊戲殺死這些獸人。
身為一位手中握有數十把致命武器、法術以及陷阱的戰鬥法師(War Mage),在狂暴的獸以及暴走的獸人圍攻下守住 24 座要塞,包括了食人怪,地獄蝙蝠,當然,還有一大群醜不拉嘰的獸人。在劇情戰役模式中與敵人戰鬥來解鎖不同的難度選擇,包含了噩夢模式!
您是否想在一個岩漿坑裡頭烤獸人,用天花板當成陷阱把牠們壓扁,或冰起來在一劍擊碎牠們?不管選擇甚麼樣武器或陷阱,您必定會成為一位獸人屠夫!
遊戲特色
守住 24 座要塞 – 蜿蜒的通道、高聳的高塔以及廣闊開放的會場都需要一位戰鬥法師來守住它們
6 種殺傷力強大的武器與咒語 – 從努弓、刃杖到魔法元素,任君挑選
19 種致命的陷阱與頑強的嘍羅 – 選擇各式各樣的陷阱,像是箭牆、釘刺陷阱、旋轉刀刃、燃燒的硫磺或是尋求同盟的協助來抵擋獸人部落的侵襲
11 種獨一無二的敵人 – 包含食人魔、地獄蝙蝠,當然,還有一大群醜不拉嘰的獸人
劇情故事戰役 – 連續 3 章抵擋獸人無情的波擊並探索故事背後神秘的力量
耐久的升級制度 – 透過戰役模式解開更多更棒的陷阱
廣泛的耐玩度 – 「噩夢模式」還有骷顱升級模式來延長遊戲體驗
計分系統以及排行榜 – 與您的朋友一起競爭最佳獸人殺手的稱號!
系統需求
Minimum:

OS:Windows XP, Windows Vista or Windows 7
Processor:2GHz Dual Core
Memory:2 GB RAM
Graphics:NVIDIA GeForce 6800 or ATI Radeon x1950 or better with 256MB VRAM
DirectX®:dx90c
Hard Drive:5 GB HD space
© 2011 Robot Entertainment, Inc. All rights reserved.
具參考價值的客戶評論