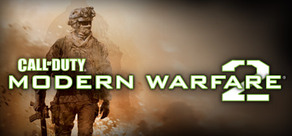 Spillet med mest forventninger dette året, og oppfølgeren til det mest solgte FPS-spillet, Modern Warfare 2 fortsetter det gripende og hjerte-rasende actionspillet når spillere møter nye trusler dedikert til å bringe verden til en kollaps Call of Duty®: Modern Warfare 2 inkluderer for den første gangen innen spill, musikk fra den legendar
Utgivelsesdato: 12 Nov 2009
Se alle 4 trailere
Kjøp Call of Duty®: Modern Warfare® 2
Nedlastbart innhold for dette spillet
Om spillet
Spillet med mest forventninger dette året, og oppfølgeren til det mest solgte FPS-spillet, Modern Warfare 2 fortsetter det gripende og hjerte-rasende actionspillet når spillere møter nye trusler dedikert til å bringe verden til en kollaps
Call of Duty®: Modern Warfare 2 inkluderer for den første gangen innen spill, musikk fra den legendariske Academy Award®, Golden Globe® Award, Grammy® Award and Tony vinnende sangskriver Hans Zimmer. Spillet fortsetter rett etter de historiske begivenhetene i Call of Duty® 4: Modern Warfare®, spillet som fikk god kritikk over hele verden, blant annet:
"Mest Spilte Online Spill" i historien, 2009 Guinness World Records

Mer en 50 Game of the Year-priser, inkludert Console Game of the Year and Overall Game of the Year, 2007, fra Academy of Interactive Arts & Sciences®
SPECIAL OPS TO-SPILLER
En helt ny spillmetode som støtter 2-spillere i spilling online som er unik fra enspiller delen.
Special Ops setter spillere i en horde av tids bestemte og objektiv baserte oppdrag.

Få høyere ranger når du låser opp flere Special Ops oppdrag, hver av dem mer krevende.

Oppdrag inkluderer høydepunkt fra enspiller, fan favoritter fra Call of Duty 4: Modern Warfare og helt nye, eksklusive oppdrag.
FLERSPILLER GJENOPPFUNNET
Modern Warfare 2 flerspiller setter en ny grense innenfor flerspiller med nye egenskaper, tilpasningsmuligheter, spillstatistikk og moduser, blant annet:
Create-a-Class, videreutviklet
Sekundære våpen - Maskinpistoler, hagler, håndvåpen, bombekastere

Politiskjold

Tilbehør - Kniver, eksplosjonsskjold, taktisk start

Fordeler

Bling (våpentilbehør)
Fordeler - AC130, kanontårn, Predator-missiler, Counter-UAV, Care Package

Medaljer (Rapport etter kamper)
Systemkrav
Operativsystem: Microsoft Windows XP eller Windows Vista (Windows 95/98/ME/2000 støttes ikke)

Prosessor: Intel Pentium 4 3.2 GHz eller AMD Athlon 64 3200+ prosessor eller bedre

Minne: 1 GB RAM

Grafikk: 256 MB NVIDIA GeForce 6600GT eller bedre eller ATI Radeon 1600XT eller bedre

DirectX®: Microsoft DirectX(R) 9.0c

Harddisk: 12GB ledig plass på harddisken

Lyd: 100% DirectX 9.0c kompatibelt lydkort

Internet: Bredbåndstilkobling trengs for flerspiller. Internettforbindelse trengs for aktivasjon.

Co-op/Flerspiller-server: For å lage server for co-op eller flerspiller-lobbyer, er en 2GHz dual-core eller bedre prosessor anbefalt.
© 2009 Activision Publishing, Inc. Activision and Modern Warfare are registered trademarks of Activision Publishing, Inc. All rights reserved. The ratings icon is a registered trademark of the Entertainment Software Association. All other trademarks and trade names are the properties of their respective owners.
Hjelpsomme kundeanmeldelser